10.07.2017
Come and fish in LETS FISH
Let's fish A flash game is a game of fish fishing but it is a game that in my opinion is developing, has good images the desktop is very basic but the game has a purpose of fishing large fish thing that at higher levels more difficult Do the fishing as you get bigger and stronger fish and it is harder to catch them.
The game lets fish to my opinion has to improve enough since there are other fishing games that are more developed, presents better graphics throughout the game, the fish are more real at the time of fishing, the fishing rod is missing many accessories. When the game is a full screen is cut the game in half ie the other half of the game is left outside the screen, which we do not like the players and makes us give up little games that have this problem.
We are sure that with these constructive criticisms that we make to these games we hope to improve as it has good graces and the support of us players.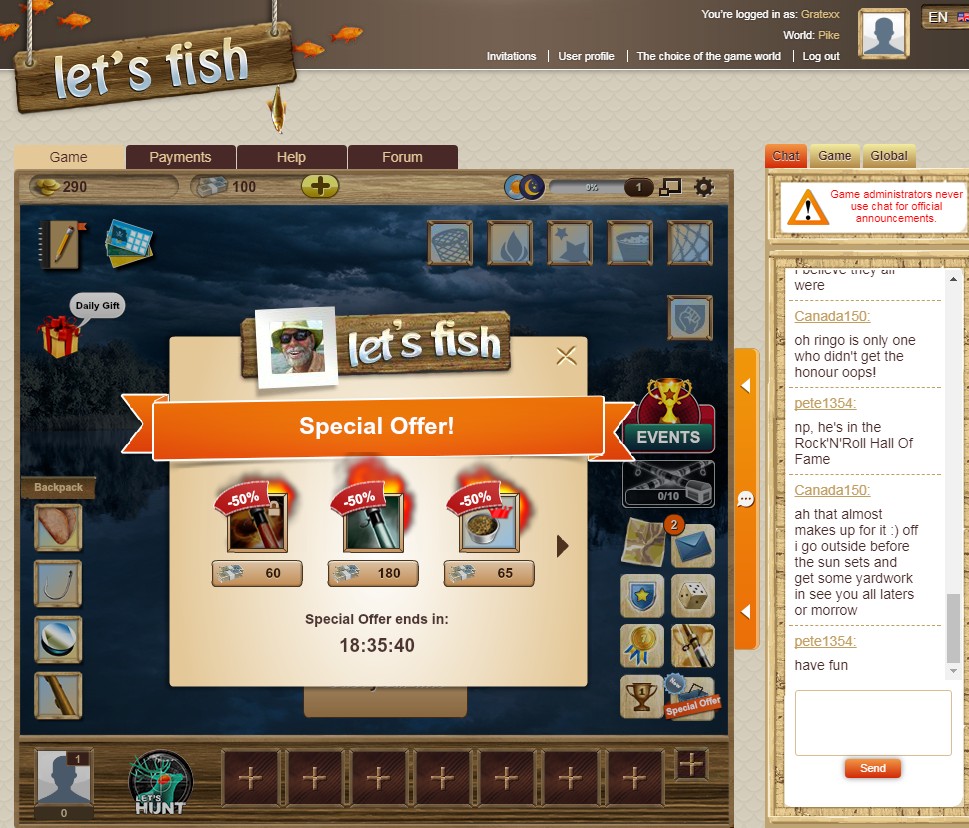 Let's talk about the gameplay. The gameplay of LETS FISH despite being a flash game is good, it is the simple thing that is attractive to us players in leisure time. The map is good is simple and understandable in it expresses the territories that you can go to certain levels, which is very important because if you go to a place that is to fish large fish you motivate to level up to be able to go By that fish. With regard to rivers, lakes, seas are beautiful the landscape is beautiful. This game presents clubs or guilds in which each player can support another, ask for help or advice.
Let's Fish presents a very funny part that is the lottery thing that helps a lot because you can earn excellent objects such as hooks, fishing rods, baits, unlock zones, money. This will make your life easier in the game and you will be able to level up and have better rewards when fishing.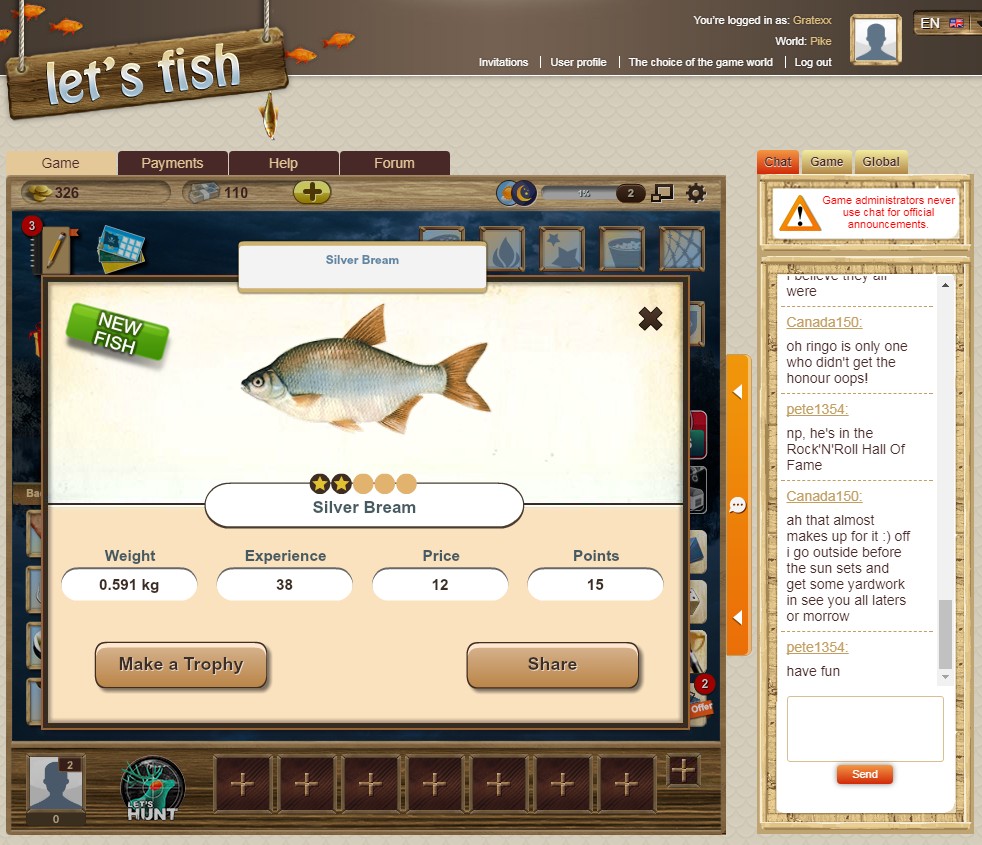 Lets fish performs internal game tournaments in which you can win unique objects thanks to your performance. At the moment the number 1 of the ranking is called barracuda75 originating in Poland. Usually, this kind of simple game draws much attention from people who love the sea, they are passionate about this sport as it is very beautiful.
The Lets Fish store is very friendly as it appears all well explained and is not so expensive except some things that are already advanced levels.
For my opinion Lets fish is a game that its developers want to expand and reach the heart of all players, but for that, they must improve certain things of the game. I see very important a forum that they put for certain doubts and recommendations of the game. That is something that is very good for growth as they bring you so many ideas that improve the game by itself.
This game does not ask for specific features for your computer, with a normal computer, with a small RAM will run the game perfectly.
It is totally free to invite you to play it and to explore a sea, lakes, rivers full of creatures that you will have to hunt to be the king of the waters.