14.01.2018
Block by Block, Idea by Idea (A Minecraft 1.12.2 PC Review)
Minecraft is a game based on community, creativity, imagination, no-limits, and expansion. Before I began the review, let's go into some history. Minecraft was conceived by Markus "Notch" Persson. It was unveiled publicly on May 17, 2009. Markus founded Mojang AB, a Swedish video game company which develops and publish games. Besides Minecraft, Mojang has produced 2 other video game products (Cobalt and Scrolls). Now let's get into the review. Minecraft is a game which wants to demolish the word limits and let creativity fly. With each version of Minecraft, the game is expanded and changed. Now I know Minecraft isn't limitless, it still has limits but some of those limits have been taken away by the community. Modifications (Mods) have been expanding Minecraft with new concepts and changes for a while now.

The community has even inspired Mojang sometimes. Pistons, a now important part of Redstone in Minecraft, were inspired by a mod that added Pistons to Minecraft. Minecraft has 3 "main modes" which are the following. Survival, which puts you in the scenario of trying to survive in Minecraft by obtaining resources which lets you create weapons, buildings, clothing, and more. Creative, which gives you endless resources to use at any time to produce the results your mind, creativity, and imagination. It also gives you the perk to fly to wherever you want. The final "main mode" is Hardcore which again gives you Survivals scenario but with a twist, if you die you don't respawn. But the ways to make a Minecraft World unique doesn't end there. You can also choose what terrain the world has, craft different scenarios with the 3 modes, allow cheats, and etc.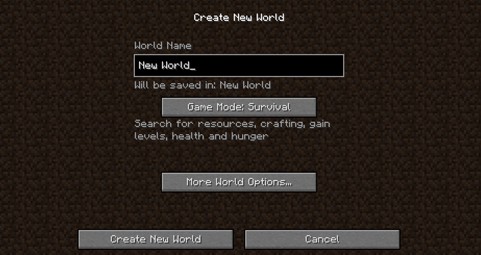 Minecraft may still be expanding but it still has a lot to offer. Another way Minecraft tries to make every player unique is the option to change your characters skin and even make one. You can also add capes to your player (which you get completing certain tasks, attending MineCon, which is a Minecraft convention, or getting one from Mojang). All in all, Minecraft has lasted a while and in 2019, it will be Ten years since Minecraft was revealed. There's probably a lot I haven't covered in this review but I really hope it does help you understand Minecraft and inspires you to play it. Minecraft has a presence beyond being a video game as it has been used in Schools, to recreate real-life structures/areas, and more! I hope Minecraft expands even more in the next few years and to see it's player count to rise even more. Minecraft will offer a new scenario each time you click that "Create New World" button. I hope through Minecraft people can connect and work together. Thank you for reading my review and making it this far. I hope you enjoyed!

Note: The images featured in this article are from the Internet and all credit goes to the poster and creator of these Images.