19.05.2018
Review The Deed: A game of mystery, and crime with RPG elements
This is a game about getting away from a mysterious crime, well actually this is an adventure game and I don't want to spoil the twist right away, but lets go through the game and find out more about this game.

By the way this game is not a free to play game, instead this is a paid game on Steam available for windows. This game costs a few cents as this is just an indie game with not that big of a story, instead this game 'The Deed' has some nice and collective scenes involving some horror and humour... Lets find out.

Ever imagined of a game where you'll be the one who tries to get away from crime instead of the one who fights to catch crime and criminals, well this game The Deed is quite a game for you. This game is an adventurous game where it follows the foot steps of a RPG game, you'll be playing as the person who wants to get away from a crime and the whole thing is described in the game which is quite brief and elaborately explained. This game looks like a comic but its quite fun to go through it for quite some time.

You play as Arran Bruce, who returns home to settle some unsettled business regarding the rightful heir and property feud. He has to go through many obstacles and you have to find a way out and let him get to his property as he is the sole rightful heir to the whole property of Dunsheil's family... You'll get to know what I'm talking about once you go through the game, instead you'll feel like reading a story or a comic which has some nice twists and adventurous turn arounds in it.

And yes the above image show how the game looks like, you'll have to stare at those texts for quite a while until you really start reading it by which you'll start understanding what's going on actually... Which will lead you to the actual story of the game, and about out hero Arran Bruce. Lets go through some information about this game The Deed from steam store page.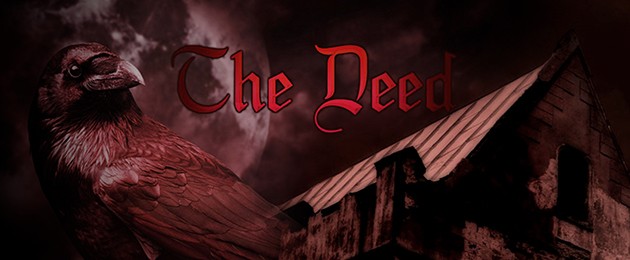 • Single Player game.
• Very positive reviews overall.
• Release Date: 24th November, 2015.
• Developer: Piligrim Adventures, Grab the Games studios [you might remember these guys from the games they have].
Publisher: GrabTheGames, WhisperGames.
• Has Steam Achievements [Has a total of 17 steam achievements].
• The game is tagged as RPG Maker, Crime and Atmospheric as well.
• This game has steam trading cards [A total of 5 trading cards are available of which you'll be dropped 3 just by playing the game and the rest have to be collected either via trading or by purchasing them from steam market, which will eventually help you in crafting your steam badges and you'll increase your steam level].
• The game has both English and Simplified Chineese languages in both voice and subtitles.
• Such games which have 2D perspective and are designed to be played by reading a lot of texts won't run at 60 frames per second, but you'll get the idea, such games won't even have extra ordinary graphics requirements either.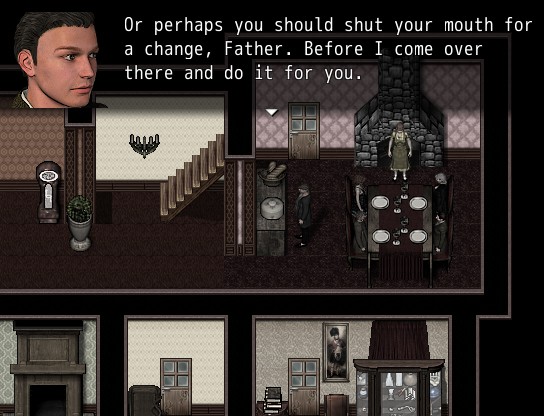 The main plot of the game is actually getting away from a murder, actually you'll be the one commiting that crime and you'll be evading that and blame it somebody else. This actually is somewhat of a spoiler if you're pretty much interested into the game, but however you'll notice that the game isn't quite big, its just simple and straight forward and offers what it has under its sleeve. So, such games run on almost all configurations of PCs, well lets go through them anyway.

- Any processor that's capable of running Steam fluently, basically a Dual Core processor is more than enough.
- The game is quite small so you'll not be needing any super high capacity Hard drives.
- 2Gigs of RAM is sufficient but you might want to get 4GB RAM as its quite the norm these days. to be able run Chrome along with some music playing along with it.
- Intel Pentium III processor with 800 Mhz is quite enough, the bare minimum that's required-

This is not a new game so such type of games are only a hit if they have an extra ordinary story and plot in them, and to be accurate this game has one. The main plot is pretty straight forward and you'll eventually find this game as a puzzle game instead of its RPG genre, you'll be the one to make all the decisions in the game behind Arran Bruce who's the actual hero in the game. You'll have to get away from a murder/crime that'll be taking place in the game, quite a plot isn't it.

Overall a nice game to play, you'll understand the story of the game rightaway and you'll notice that the game is kind of like a horror movie with adventurous twists in it.