20.05.2020
Booty Farm Coin Hack – Everything You Need to Know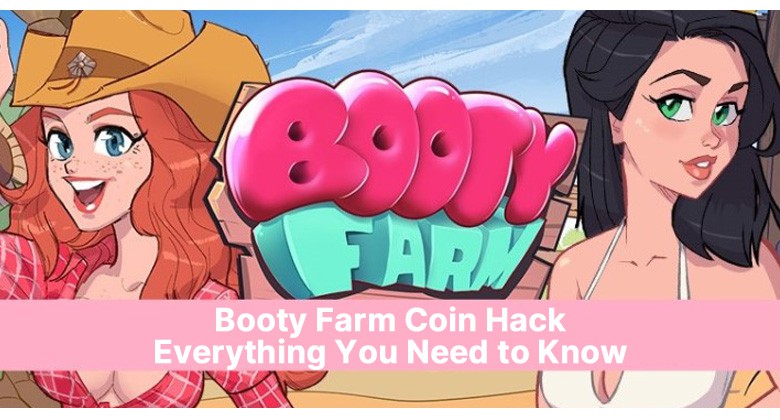 Booty Farms is a popular adult game from famed erotic developer Nutaku. It's a title that combines several elements. It's part farm-sim, part romance game, part visual novel. Of course, it also features plenty of beautiful babes and nudity. Since its release in 2019, it's gained quite a large following. The gameplay cycle is fairly addictive, meaning you always want to unlock (and undress) the next girl you encounter. With the premium currency, you can do exactly that. But what about Booty Farm coin hacks? Do such things exist? And should you use them? We take a closer look.

Booty Farm Basics
If you're the type of person who likes faming and beautiful women, Booty Farm is a title you may want to consider. The basic premise of the game sees you inherit a dilapidated farm from your uncle. Although initially you want to sell the farm and return to the city, farmhand Mindy convinces you to stay.
As your beautiful red-headed assistant, she walks you through all the essentials of the game. This includes things like raising animals, farming crops, constructing buildings, and meeting beautiful women. Although many of the farming aspects of Booty Farm are similar to other games in the genre, the romancing side of things is quite novel.
Set in a graphic-novel style arrangement, you can interact with the game's different girls. You can have conversations with them, where you options can impact how the girls view you and how successful you can be with them.
Of course, as you're the only suitable man for miles around, the romancing side of the game is as important as the farming side. However, the two elements do interact, and you'll need to use your farming skills to impress the locals. This means getting your hands on enough resources. It's also where coins come in.
What are Booty Farm coins?
There are two main currencies in Booty Farm; coins and crystals. Both can be used for various tasks in the game. As you play though Booty Farm, you can earn both of these currencies. However, as this is a 'freemium' title, it can often take you a long time to earn enough.
Long gameplay loops and repetitive tasks can make obtaining coins and crystals a bit of a chore. However, you also have the option of purchasing them from Nutaku. There are various tiers of pricing, and the more you buy, the cheaper each ones works out.
For those who want to play through the game at their own pace, Booty Farm coins can be an essential commodity.
What are Booty Farm coins used for?
There are several uses for coins and crystals in Booty Farm. Coins are primarily used for buying items and upgrading your farm. So, to progress through the game, you'll need to earn and spend a fair amount of them.
If you want to impress and romance the girls in the game, you'll need to buy quite a lot of items. Although the money can be earned, it often takes a long time to do so. As such, you can spend coins and crystals to speed up certain processes, helping you impress the girls as you go.
How can you get Booty Farm coins?
There are several ways you can get coins in Booty Farm. To start with, you'll be given your 'inheritance' to get you started with the game. This makes up part of the tutorial, so you have to spend a set amount of these as you learn the basics of the game.
There are other ways too. By simply playing through the game, you'll soon get caught up in its economy. Certain actions and buildings will generate an income, and you'll occasionally get gifts of coins for completing certain actions.
The same applies to crystals. The game is designed to give you just enough you keep playing, but not quite enough if you're impatient. Their real hope is that you'll cave and buy the currency to make your life easier. So, how about Booty Farm coin hacks?
Are there Booty Farm Coin Hacks?
If you do a quick search for 'Booty Farm coins' you'll see all kinds of websites offering Booty Farm hacks. These sites generally get you to download a hacked version of the game, or a mod that runs in the background as you play.
These Booty Farm coin hacks are often on fairly suspicious websites. If you look at forums and other message boards, you'll often see fans claiming they don't work. As with many other games, Boot Farm hacks may be too good to be true.
The problem with hacks is that they often get you to give over account information or download a spurious executable file. You can never be certain who has designed the website or what their real intention is.
Our advice would be to avoid Booty Farm coin hacks, and play the game as it's meant to be played. If you want to get more premium currency, consider supporting the developer who made the game.