14.10.2020
How to find deals on Steam games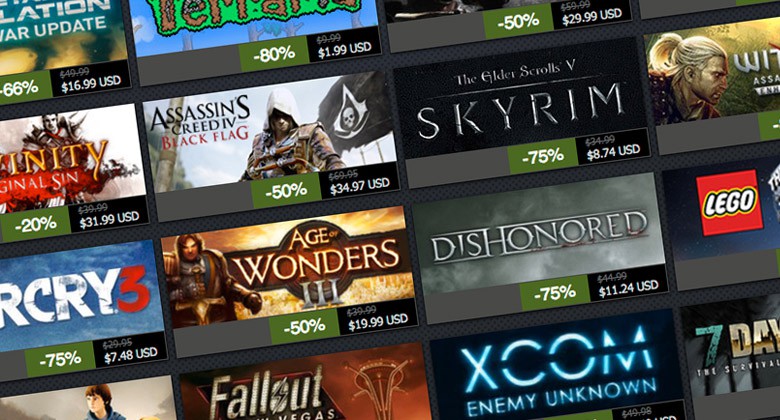 Steam has very quickly become synonymous with computer-based gaming. With over 125 million users, and thousands of games in its catalog, there is no doubt that Steam has something for everyone. The cost of all these games can very quickly add up, and with the price of some games becoming almost outrageous, there's a question that a lot of us are asking - is it possible to save big on the games you want? The short answer – absolutely yes. Read on to discover how to find the best deals on Steam games.

Steam Sales
Steam is almost legendary for having pretty incredible sales throughout the year. The biggest sales are the Summer Sale and the Winter Sale, with each one lasting around two weeks and offering some unbelievable deals on Steam games. But you'll have to be prepared – Steam often offer limited-term daily deals, flash sales, and community choices sales too, so you'll want to be close to your computer to get the best deals. We would recommend that you scoop up the games you want on the last day of the sale, as usually, the price is at its lowest by then, meaning you can get the best deals on Steam games.
Wishlist
Often you don't have to wait around for the sales to get the best deals on Steam games. Steam keeps a constant stream of great discounts throughout the year, with Daily Deals, Weeklong Deals, Weekend Deals, and even Midweek Madness. With all these different sources, it can give you a bit of a headache. The best way to work around this bombardment of discounted games is to keep careful tabs on your Wishlist, adding all the games you want to it. If and when the games on your Wishlist get discounted, you'll get a helpful email, and during the big sales, you can simply visit your Wishlist page and wait for those deals to roll in.
Other Retailers
You may be a Steam loyalist… but this doesn't mean that you can't get games from other places too! And very often, these other places actually sell them much cheaper than if you were to get them directly from Steam. It is definitely worth your time to keep an eye on other sites that will offer the best deals on Steam games.
Enhanced Steam
So you're on the hunt for the cheapest copy of the game you've wanted for ages. Unfortunately, Steam isn't going to tell you where you can find the best deals on Steam games, as they'll want all the traffic they can get. This is where Enhanced Steam comes into play. Enhanced Steam is a web extension that will show when a game is available for a lower price on a different site. Basically, if you don't have time to search for the best deals on Steam games manually, you can fire up this extension, and it'll find them for you!
Save with Friends
Very often, you can get much better prices for multiplayer games when you split the cost of the bundle with your friends. Steam games often come in 'four-packs,' which usually average out at a 'buy three, get one free' offer, so not only can you get a great deal on a game, you can also get your friends involved too. It's worth noting that these deals aren't available if you already own the game.
'Hidden' sales
The Steam Store homepage may alert you to a great deal on a specific title, but often the publisher will offer that very same discount on other related games. And quite often, those games won't even make the headline. If you go back and check, you'll often find that previous titles in the game series have also had a similar discount applied to them, so that's also a good way of finding the best deals on Steam games.
The Community Market
Lots of Steam games come with the option to earn digital trading cards while you play, and sometimes when you purchase a game, it comes with a chance to earn limited edition trading cards. This may not seem like a big deal, but if you find yourself with a small stack of these digital trading cards, you can head over to Steam's Community Market and actually earn some money back on these cards. Most are only worth a few cents, but some of the rarer ones can go for a few dollars, and if you get your hands on some limited edition trading cards, you'll want to sell these off in the first day or two, as the price drops off after that. It may not be loads off the price, but it can still shave off a buck or two.
Final Thoughts
So there's a quick rundown on how to find deals on Steam games. As you can see, you don't have to spend the full amount on the game you want every time. As long as you keep your eyes peeled and think outside the box, you can find some great deals on Steam games.