06.11.2020
MovieStarPlanet – what are profiles?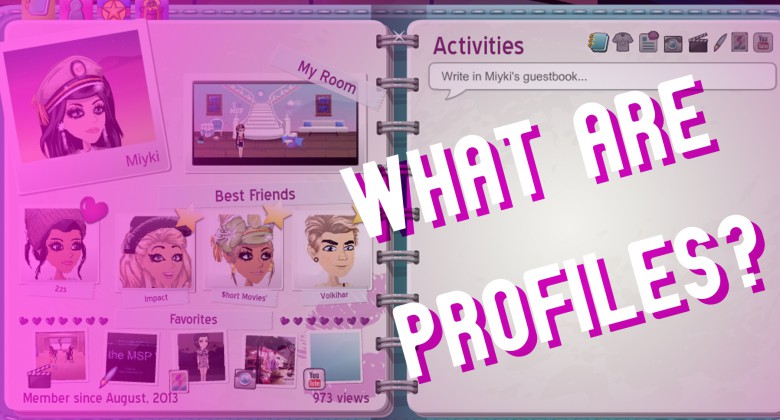 MovieStarPlanet is an online 'playground' based around the wonderful world of movies. Combining aspects of social media and online gaming, the app has more than 400 million registered profiles across the world. With the possibility of creating movies, lookbooks, taking photographs, attending premieres, chatting with friends, and even looking after pets, there's a lot that you can get involved with in the app. One of the first things you have to create in MovieStarPlanet is your profile. Every user in the app has a profile, and they can be used to send messages to each other, see stats, and stalk your friends too! We take a look at MovieStarPlanet profiles.

MovieStarPlanet – Profiles
Your profile is all about you! It's where you can tell all the other movie stars about who you are, where they can see your avatar and your room, and even have a look at your best friends. They can also leave messages and greetings for you, so it's a great way of making friends. Your profile also shows your level, the date you created your account, your favorites from the game (like your favorite YouTube video or your favorite look), and your most recent activities. Basically, all the info you might need to stalk your friends! But that's not all! Read on to find out about different sections in your MovieStarPlanet Profile.
Biography
Do you want the other movie stars in MovieStarPlanet to know more about you? Then you'll want to keep your Biography up to date! This is a way for other movie stars to find out what you do in your spare time, what food you might like, or even the music you listen to. What you write in your Biography is completely up to you! You can even add stickers, movie stars, or items to your Biography.
Awards
You can also see how many awards you can claim in your MovieStarPlanet profile. Your Fame points contribute to your level, and you may think that you have to make movies and gain popularity to get more Fame points… when in fact, you can simply play the game! Awards can be claimed after performing certain tasks – some of these include watching and rating lots of movies and buying items in the Shops. Once you've done these, you can claim your Award. And if you want to stalk your friends and see their MovieStarPlanet stats, you can compare your Awards with theirs!
Gifts
Who doesn't love a gift? In MovieStarPlanet, you can actually give gifts to other movie stars. It's a great way of letting someone know that you appreciate them, or giving a gift to your best friend, boyfriend, or girlfriend. You can even choose which gift to give to them. You can go through all the gifts that other movie stars might have given you, as well as seeing all the ones you have given. In addition to this, you can even start a Wishlist, which your friends can check up on and potentially surprise you with that little something you've wanted for ages!
Recycling and Trading Items
Trading items with other movie stars in MovieStarPlanet can also be a great way of getting items you've wanted for a while. If you have an item you might want to trade, you can reach out to another movie star and see if they might want to make a trade with you. There is also the option to recycle stuff. Sometimes we all gather a few too many bits and pieces, so what better to do than recycle them! Every item you possess can be recycled, apart from items bought with Diamonds and some types of pets. For each item you recycle, you get a certain amount of points, and once you hit 1000 points, you will receive a special gift.
MovieStarPlanet Profiles – Extra Info
So as you can see, quite a lot happens in the MovieStarPlanet Profile section! From stats to stalking your friends, gifts, biographies, and all sorts, it's one of the best places in the game to find out about the other movie stars and also to make friends. Your Profile also displays all your Designs, Photos, Movies, ArtBooks, Looks, and your favorite YouTube videos too. It's basically the center of your own MovieStarPlanet world! Another feature of the Profile is the Guestbook. This is a way that other movie stars can leave messages for everyone to see – just like a Guestbook in real life.
Final thoughts
So that's an introduction into what profiles are in MovieStarPlanet. As you can see, everything happens in the MovieStarPlanet profile, so make sure you keep yours up to date. The profile is the perfect way to interact with other movie stars and to get to know each other better. If you're looking for some inspiration about how to make your profile look great, have a look at some of the other movie star's profiles. Or maybe have a stalk of your friends!