13.06.2019
The Best Bowling Games of All Time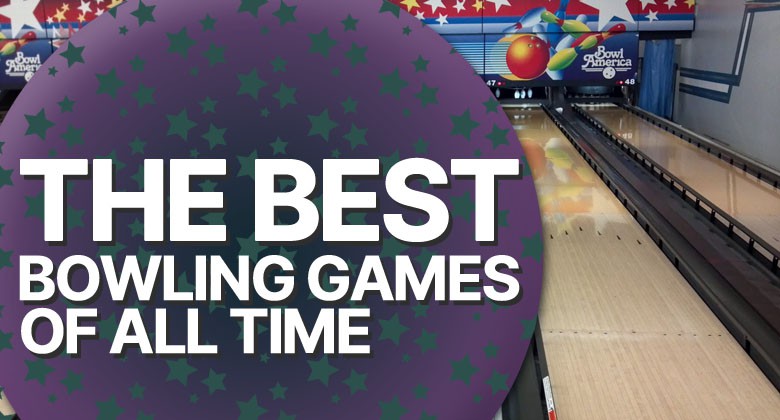 Bowling is a sport with a long history. There are countless variations of the sport, and it's enjoyed by millions of people worldwide. Surprisingly, bowling games aren't as common as video games for other major sports. Despite there being professional bowling associations and competitions, there haven't been many bowling games. However, there have been some. We take a look at the best bowling games ever released, across a variety of consoles and eras.

Of course, there are also free online bowling games that you can play in any browser, but they often lack the depth of console-based offerings.
Wii Sports
Although not strictly just a bowling game, Wii Sports features perhaps one of the most popular bowling experiences of recent memory. When the Nintendo Wii was released back in 2006, it changed the way we think about gaming. The Wiimote controller brought a whole new dimension to video gaming, and it was the perfect accessory for a number of sports games. Wii Sports challenged players to play against each other, requiring skill and precision to beat high scores, the perfect platform for bowling.
Ten Pin Alley
The 1996 release of Ten Pin Alley on the PlayStation also represented a big step forward in bowling game technology. Part of the problem until then was that gaming hardware couldn't replicate the physics of the pins falling. In Ten Pin Alley, the pins fell with a huge amount of realism. It brought in a host of gameplay features, such as the power meter and various technique adjustments. The overall effect was a game that looked great, played accurately, and was one of the best bowling games ever made.
Brunswick Circuit Pro Bowling
A few years after the release of Ten Pin Alley, publisher THQ released Brunswick Circuit Pro Bowling on the PlayStation and Nintendo 64. Again, the focus was on realism, physics, and accuracy to the sport, and the final result felt polished and competitive. The game featured a variety of game modes, allowing players of all abilities to find a game type that suited their experience. It also featured some of the most famous bowlers of the era, each rendered with surprising accuracy.
Jamdat Bowling 2
The original Jamdat Bowling was a mobile game that gave a fairly faithful representation of the sport. The second game in the franchise built on that initial success to deliver a solid bowling experience. It featured a fairly basic set of principles, yet there was still plenty of scope for players to improve and challenge themselves. There were quite a few mechanics that made the game so entertaining. Positioning, power, aim, and spin were all variables that the player could control, making it hard to master. The game looked great for the era and featured a multiplayer mode as well as plenty of customisation.
Rayman Bowling
Anyone who has played the Rayman games wouldn't automatically pick the hero as a bowling pro. However, Rayman Bowling was a surprise success thanks to its cartoon graphics, fun gameplay, and challenging setup. Players had to choose where Rayman would bowl from, as well as selecting the curve and power of each shot. There were also several features that made the game fun, as it introduced obstacles to make your shots harder. Although not one for the bowling purists, the casual bowler found a lot to enjoy about this game.
AMF Xtreme Bowling
Much like Rayman Bowling, AMF Xtreme Bowling was a mobile game from the mid-2000s. Although it brought little in terms of gaming innovation to the table, the title did bring a significant step forward in terms of mobile graphics. Players got to choose from several different characters, as well as a variety of environments. Each shot had different camera angles, recreating the views used in competitive bowling. Like other games in the genre, AMF Xtreme Bowling had players use a variety of meters to position, aim, power, and spin their shots. Overall, it was an enjoyable mobile bowling game.
RocketBowl
This is another title that's not for the purists but one that was a lot of fun. The 2004 game was originally launched on Windows, before being ported to Xbox 360 in 2008. It was a game that blended elements of bowling with miniature golf. Rather than enclosed lanes, you'd have to navigate a wide open area with multiple frames. It was a fast-paced title that was fairly chaotic, as players could knock down pins from different frames with one shot. It also featured additional items, including rocket powered balls.
PBA Tour Bowling 2
PBA Tour Bowling 2 was released on Windows back in 2000. At the time, it was one of the most realistic bowling games out there. Players had the ability to customise lane conditions, ball weight, color and texture, as well as watch their shots on fly-by cameras. The pin physics were excellent, making each shot feel like a challenge. You could also play against computer simulations of the top professionals at the time, making it a tricky game to master.
Silver Strike Bowling
One of only two true arcade experience on this list, Silver Strike Bowling was a 2007 ten-pin bowling game that used a trackball. This piece of technology was similar to that seen in golf arcade games, and was used to direct the path, spin, and power of your shots. There were several different difficulty settings, yet this could only be determined by the game cabinet owner, making the experience different in each arcade.
League Bowling
Last on our list is League Bowling, a 1991 arcade game that also appeared on the Neo Geo. It was one of the first arcade bowling games and allowed for up to four players to play at once. There were various game modes, including Regulation and Flash, which added random bonus points to each shot. Although the controls were a little awkward, the vibrant and humorous graphics, as well as the mainstream appeal, cemented its place in video game history.