13.11.2020
The Best Planes in War Thunder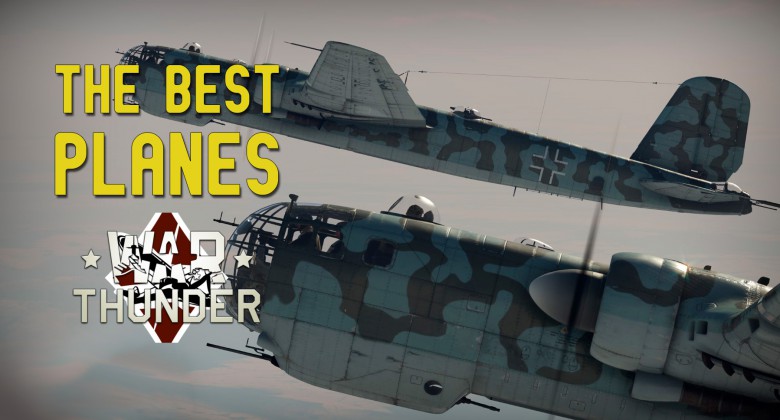 War Thunder has been about since 2012, but it remains incredibly popular on Steam. Back in 2014, it was awarded a Guinness World Record for having the most planes in a flight simulation. It was also awarded another Guinness World Record for having the most players online simultaneously, and in the past few years, it's had 15 million players log in. With close to 2,000 playable vehicles, and a whole range of historical and custom maps to play on, what you use to battle and which nation you join too can be really important. With a choice between Ground, Fleet, and Aviation, lots of players want to see if they can find out the best in each class of vehicle. With the Aviation class being split into different categories, including Fighters, Twin-engine Fighters, Attackers, Bombers, Jet Aircraft, and Helicopters, there's plenty of choice, and it can be tricky to know where to start. In this article, we will be looking at the best planes you can use in War Thunder.

Hurricane MK I Late
Kicking off the list of the best planes in War Thunder is this formidable British fighter, which features four machine guns on each wing and maneuverability that is only rivaled by most biplanes. Only bested by a few, there are still some downsides to the Hurricane MK I. It can be a little bit sluggish in comparison to some other fighters, but it makes up for this in durability, and it's multiple machine guns can make quick work of bigger planes and bombers. A worthy addition to our list of the best planes in War Thunder.
P-36G Hawk
This plane is a little tricky to get your hands on, but it is well worth getting as it is definitely one of the best planes in War Thunder. The first American plane on the list, the P-36G Hawk is really nippy and has a serious amount of firepower too. Absolutely worth avoiding early on in the game! American planes in War Thunder are some of the best planes you can get, and the P-36G Hawk is well worth the wait. It can take a fair bit of damage too, which means you can easily turn the tables when you find yourself in a vicious dogfight.
HE 112 B-0
This German plane is another one of the best planes in War Thunder, and is a bit of a jack of all trades! It's got great firepower, and is incredibly agile as well. You may not be able to maneuver it as well as a biplane (let's be honest, there aren't many planes out there that can!), and it's a bit slower than most of the Russian or American planes, but it can absolutely hold its own and can make a lethal opponent when in a dogfight.
F2A-3 Buffalo
This vehicle from the selection of American planes can prove to be a tricky one to master. It's big and heavy and can be hard to pilot. But it's absolutely one of the best planes in War Thunder, with almost unbeatable firepower and a diving speed that is tricky to top. This American plane should always be used from an altitude, as swooping down on an enemy will prove this War Thunder plane to be one of the quickest in the game. Combined with its four machine guns, a quick burst is all it takes to put your enemy out of action.
Ki-83
Also sometimes known as 'the Japanese Surprise,' this fighter jet is capable of some amazing things. A twin-engine aircraft that can reach pretty good speeds and can also dominate in the spheres of firepower, but when it comes to maneuverability, this Japanese plane can leave a little bit to be desired. Still, for its agility and firepower, it definitely ranks up there with the best planes in War Thunder.
AH-1Z
A helicopter still can count as one of the best War Thunder planes, right? This American plane specializes in attacking and has a pretty formidable attack rating. It's an incredibly agile helicopter, and it has a maximum height that exceeds most of the other helicopters in the game. It can carry a combination of missiles, rockets, and miniguns together, which makes it one of the best helicopters (or planes!) in War Thunder. Another great addition to the best planes in the American planes section.
Final thoughts
So there's a round-up of the best planes in War Thunder. As we mentioned, there's a lot of choice when it comes to the Aviation class – War Thunder was originally designed as a 'flying simulation game,' and we can't forget about those Guinness World Records they won for their aviation too! When it comes down to the Aviation class as a whole, and the best planes you can use in War Thunder, the American planes are definitely the best as all-rounders.