19.10.2020
The Most Popular Games of 2019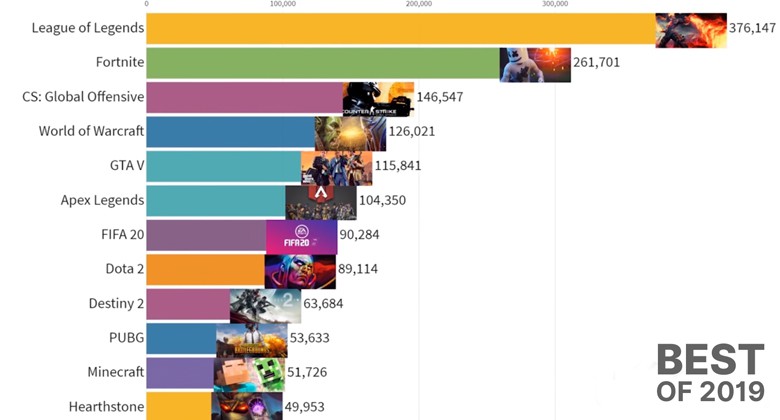 Another bumper year for games, spanning all sorts of different genres. We've seen absolutely amazing advances in technology meaning that people from all over the world can play games together, which in turn has inspired a fresh crop of online video games, as well as the standard ones. From Game of Thrones, first-person shooters and Star Trek, to a game where you are literally a goose - let's round up some of the most popular games from 2019.

Death Stranding
From the creator of Metal Gear Solid, this game got lots of awards at the end of the year. And we can see why. The premise is that you are a delivery man in a post-apocalyptic world, supplying the earth's survivors with essential packages and trying to repair internet connections. Certainly an original premise for a game! But it's the attention to detail and the remarkable graphics that rank this game high up on our list.
Apex Legends
This free-to-play battle royale gets 60 different players in squads of three to battle it out and try to take control of the entire map. Pretty simple! You've got to scavenge for weapons and other equipment across the terrain, and slowly try and conquer the whole map. It's a great game for teams, and since it came out it has been giving old classics like Fortnite and Player Unknown Battlegrounds a run for their money.
Untitled Goose Game
Ever wondered what it is like to actually be a goose? No? Well, one of the most popular games released in 2019 was, in effect, a goose simulator. Yes, you read that right! In the game, you are a goose who, using stealth tactics and puzzle-solving, causes havoc and chaos to the residents of a small village. With millions of players, memes and videos celebrating this simple game, at the end of the day it is both funny and fun, strikingly original but endlessly entertaining.
Sekiro: Shadows Die Twice
This game is set during a supernaturally-tinged recreation of 16th century Japan, where you, an assassin, have to stealthily sneak through the incredibly designed world, taking out various enemies as you go along. With eye-popping graphics, sometimes we've found ourselves simply looking around and admiring the jaw-dropping scenery in the game rather than cracking on and completing the mission! Despite it being one of the trickier games released in 2019, it sold millions of copies and took home the coveted accolade of being Game of the Year. And for good reason too.
Honorable Mentions
So those are some of the most popular games of 2019, and it was a tricky choice to choose just those ones! The improvements in technology has opened up so many avenues in online games, which is really exciting, as you can play with people from all over the world. We have barely touched the surface of the most popular games of 2019, so we'd like to do some honorable mentions to some games that have proved themselves to be really popular too:
Game of Thrones - Winter is Coming
Based on the monstrously popular book and TV series, this RPG has you take the part of a lord or lady of one of the seven kingdoms of Westeros, and train soldiers, recruit characters and form alliances with other players. It's not all fighting and war though - there's also a lot of importance put on food production, mining for metal, felling timber and other things necessary to a thriving kingdom. So if you're a fan of the show or the books, then this is for you - you can even hatch a dragon and fly into battle like Khaleesi!
Star Trek Online
Despite being over 10 years old, Star Trek Online still has a fervent fanbase, and millions of players still logging in to explore the amazing universe created by George Lucas. As a captain of your own ship, you have to explore the galaxies, upgrading and updating your systems as you go along. With new content being uploaded every few months, and decades of storylines to get through, Star Trek Online is sure to keep it's popularity for a while yet.
World of Tanks
This legendary massively multiplayer online game is nearly 10 years old, and yet still boasts several million registered users and several awards too. The premise of this game is simple. You are in charge of a tank and you have to negotiate various battles - there are six different types of battle you can get involved with. And that's about it! You can ally with other players in the same battle, and communicate with everyone in the battle via voice or typed chat. 2019 saw the introduction of wheeled vehicles in the game, as well as a revamped version of Frontline. With updates like that to continue, we're pretty certain that World of Tanks is going to remain as popular as ever.