14.01.2020
Vikings: War of Clans How to Get Free Gold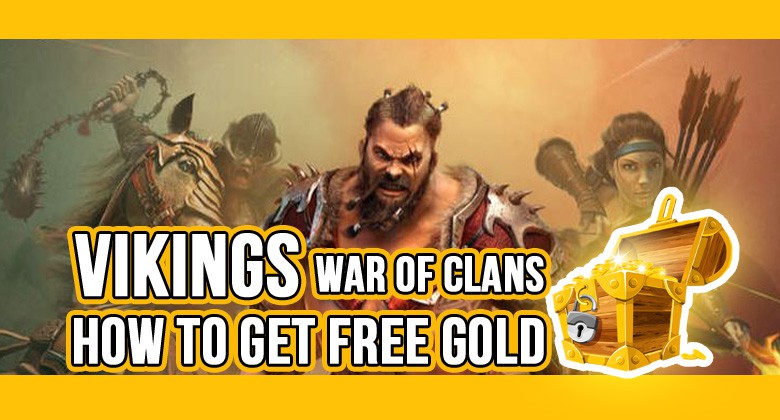 As with many free to play mobile and browser games, Vikings: War of Clans has a variety of ways to get players to spend time and money on the app. As you play through the game, you'll find that you have to gather resources to level up your hero, gain knowledge, construct buildings, and recruit troops. Although the game rewards you with these resources as you play, they can sometimes be hard to manage. That's why there's always a way to purchase premium currency like gold. Many people search for things like 'Vikings: War of Clans How to get free gold', and there are lots of results. However, few are reliable methods. We take a look at your options.

Vikings: War of Clans Gold
Gold is a premium resource in Vikings: War of Clans. It has a variety of functions in the game, including things like:
Instantly completing training and upgrading warriors. If you're trying to increase your army's capabilities, it can be an invaluable resource.
Instantly constructing buildings. Buildings are the heart and soul of your village, so being able to instantly build and upgrade them is essential.
Instantly learning Knowledge. With knowledge, you can access more parts of the game. Using gold to instantly learn it is a valuable action.
Crafting Hero equipment. To get competitive at the game, you'll need a hero that's capable of improving your clan and taking on enemy players. The right equipment is necessary to do so.
Purchase items and boosts. If you want your military and economic stats to increase, you'll have to spend gold.
As you can see, there are many ways that gold comes into play in the game, so it's little wonder that players search for how to get free gold in Vikings: War of Clans. You'll often see options to upgrade, build or purchase items and buildings using your gold resource. It means you don't have to spend other resources or wait for the construction/upgrade to complete.
Vikings: War of Clans Gold – Where to Get It
There are several ways that you can get gold in Vikings: War of Clans. However, unlike other resources, there are some restrictions. With things like Food, Lumber, Iron, Stone, and Silver, you can produce them in buildings, send them to other clanmates, and claim it by attacking the towns of other Jarls. However, that's not so with Gold.
The easiest way of getting Gold is to purchase it in the Bank. The exact amount it costs depends on several factors, such as how much you're buying, whether there are offers on, and whether you get any free gold. However, generally speaking, the more you buy, the cheaper it works out overall and the more you get for free.
Vikings: War of Clans How to Get Free Gold
If you don't want to spend your hard earn money, you may be wondering how to get Vikings: War of Clans gold for free. Well, thankfully the game does have several ways that you can do so. We've outlined them below:
Levelling up your Hero. Every time you increase your Hero's level, you'll get a set amount of gold. It's a useful way of rewarding players for sticking with the game.
Playing the game. Like many mobile games, by logging in every day, you'll get rewards. Gold is amongst the things you can get.
Attacking and destroying Ghosts, Invaders, and Uber Invaders. These can be challenging battles, so it's only fair that you get compensation for winning them.
Opening the Chest of Loki. This isn't always easy to do, so the risk and reward are often worth it.
Passing checkpoints in competitions. There are various thresholds you have to meet to get the gold, and the better you do the more you get. If you take top place, you'll be handsomely rewarded.
Winning contests. The official Vikings: War of Clans community often holds competitions. If you win, you'll likely get some gold for your troubles.
Link you Facebook account. As a one-off incentive, you can get gold by linking your Vikings: War of Clans account with your Facebook.
Win the Battle for the Throne competition. Along with a whole bunch of resources, the lucky winner of this competition receives 8M Gold.
Along with these events, there are also occasional in-game resources that you can use to gather Gold. These include:
Gold of the Gods. If your Kingdom wins the Kingdoms battle (held every 2 weeks) these resource locations appear randomly on the map for 5 days after the victory (or until the resource is depleted). They yield 1 unit of Gold per minute.
Gold Fields. Occasionally, these resource locations appear at random across the map. They yield 1 gold every two minutes until depleted.
Vikings: War of Clans How to Get Free Gold – Hacks?
If you do a quick internet search for 'Vikings: War of Clans how to get free gold', you'll see all kinds of results promising instant riches, cheat codes, and other hacks. These may be tempting, but we'd strongly advise against this approach.
In a separate article, we discuss Vikings: War of Clans hacks and cheats. We concluded that, despite what these websites promise, there aren't actually any reliable ways of getting free gold/resources. Many prompt you to enter your account information or download unsafe software. This can end with your account being stolen or your PC/mobile getting infected with viruses and malware.
Even if you were able to find a way to cheat and get free gold, this ruins the game for honest players, and you risk losing your account. Many games now have strict anti-cheating policies, which means they'll ban you if they suspect you're cheating.
Vikings: War of Clans How to Get Free Gold – Final Words
So, now you know a little bit about how Gold works in the game, what it's used for and how to get it. Try not to worry about gold too much though. Unless you want to spend your own money, the best way to get it is to enjoy playing through the game and making progress.