24.11.2020
What happened to League of Angels: Fire Raiders?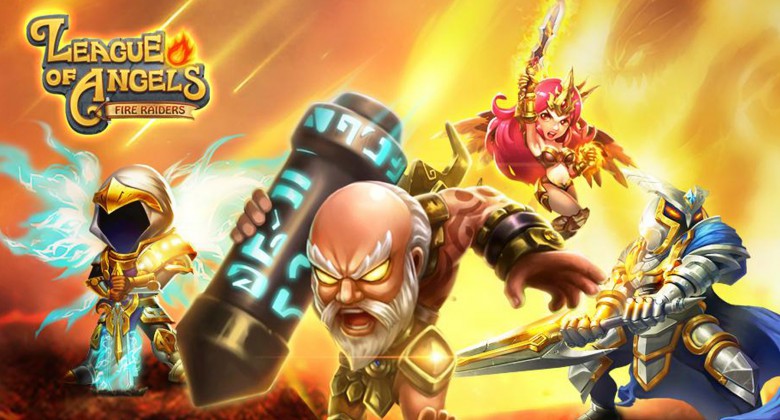 League of Angels: Fire Raiders was the sequel to the popular browser-based game League of Angels, released in 2013. League of Angels: Fire Raiders was an MMORPG (a Massively-Multiplayer Online Role-Playing Game) card strategy game playable on iOS and Android. You basically could create the ultimate party with characters collected from cards, and then over time equip and upgrade them so you could become powerful enough to vanquish the Devil Army. Often seen as being better and more enjoyable than the original League of Angels, the game quite suddenly disappeared just a few years after being released. So what happened to League of Angels: Fire Raiders? We'll take a look at the game and what happened.

League of Angels: Fire Raiders
League of Angels: Fire Raiders was created by Youzu Interactive back in 2013 as an extension of their other game League of Angels. With the traditional questing elements that were present in the original game, but also including some cross-server arena battles, team dungeons and a whole load of mini games, League of Angels: Fire Raiders gave players a whole lot more to play with than the original game. The story line follows a group of heroes led by you with an epic mission – to stop the Demon King from destroying all of humanity. With a loads of heroes to choose from, as well as angels who help you out on your mission, the game play is pretty typical for an RPG. Featuring the classic automatic turn-based combat, your heroes will always attack automatically when they can. It's up to you to decide when and how your heroes use their special skills.
Heroes
To become the most powerful player in League of Angels: Fire Raiders, you required the best heroes. Once you completed the starter quest, you got a starter team of heroes. These heroes helped players upgrade the league and earn gold too – and if you liked a challenge, you could draw a card. You got powerful 3-star heroes and Soulstones in this way, which then helped you to unlock other heroes. Overall, there were 70 heroes in League of Angels: Fire Raiders. They could all be promoted, with promotions varying from Common through to Legendary.
Angels
League of Angels: Fire Raiders wouldn't get their name without featuring actual Angels in the game! Angels were vital members of your fighting league – they were effectively the captains of your team, with skills and abilities that affected and supported your whole team. Acquisition, enhancement and selection of the Angels was a critical factor to your overall success in League of Angels: Fire Raiders. You needed to select the best Angels to support your heroes. When you upgraded your Angels, you had the choice to upgrade skills or Aura's – Aura's were better to upgrade really, as that increased Abilities for your whole team.
Gameplay
It's a shame that League of Angels: Fire Raiders is no more, as the gameplay was one of the best and most involved things about it. There were lots of different facets you could get involved in, but the most structured part of the game was the Adventure Stages. Across 16 different chapters, each one with several subsections too, the Adventure Stage was the main crux of the quest element in League of Angels: Fire Raiders. From Chapter 1's Watchtower section all the way through to Chapter 16's Ghost Spire, these stages were really popular and engaging. As well as the Adventure Stages, you had a series of Trial sections, which were designed to test the players and gain valuable items. The 6 different trials that were available in League of Angels: Fire Raiders. There were also four Arenas that were able to be played in – this was where you could compete against one another in the game. There was also an Ultimate Tournament, which was a periodic competition where your best three teams were matched against others. Shops were a really important part of the game too, with 4 of them being spaced around the game. You could also join up to a Guild. These were collections of players who supported each other through in-game activities. All the activities available to Guilds helped to make your Angels and Heroes more experienced and upgraded.
Saying goodbye to League of Angels: Fire Raiders
We've given you a very brief overview on some elements of League of Angels: Fire Raiders, but unfortunately you can longer enjoy all of these elements as it no longer exists. Back in 2017, the developers announced on the official League of Angels: Fire Raiders Facebook page that 'due to the overall operational needs of the game exceeding our capacity, it is with a heavy heart that we inform you that LOA:FR will cease operations on December 31st, 2017'. Even after only a brief time of being playable, League of Angels: Fire Raiders got loads of fans, who were all devastated when they found out what had happened to League of Angels: Fire Raiders.