19.11.2020
What's the deal with Goodgame Empire and Core Temp?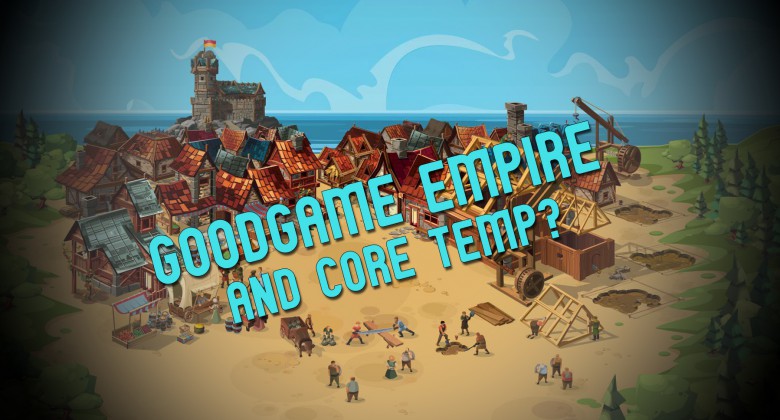 Goodgame Empire is a free-to-play medieval castle-based strategy game that was first launched in 2011. You build your castle and use troops to attack enemies, as well as joining alliances, completing quests and taking part in events. Back in 2017, the founding company behind the game, Goodgame Studios, announced that Goodgame Empire has surpassed more than $800 million in lifetime revenues. This basically made Goodgame Empire Germany's most successful game of all time! So it's a pretty big deal, that's for sure, and Goodgame Studios have promised to extend Goodgame Empire into one of the most complex strategy games ever. Where does the aforementioned Core Temp fit into all this though? A frequent question is what Goodgame Empire has to do with a thing called Core Temp. We will discuss what the deal is with Goodgame Empire and Core Temp.

Goodgame Empire and Core Temp
At the end of the day, Core Temp has nothing to do with Goodgame Empire really! However, as we will explain, there are some things that do link them, and why people ask the question about the deal with Goodgame Empire and Core Temp.
What is Core Temp?
Often, when you are gaming using your PC, you might start to feel it heat up a bit. It's never good for a computer to overheat, so lots of people download software that measures the CPU temperature. Core Temp is one of the best and most popular (and free!) third-party options for measuring the heat of your CPU. The reason as to why it is so popular is because it shows the temperature of each core in each processor in your system. It also has a logging feature, which allows the user to record the temperature of their processor over any time. The data produced is easily transferable to an excel spreadsheet for graphing purposes.
Downloading and installing Core Temp
The whole process of downloading and installing Core Temp is really easy – the same as downloading any other kind of software. However, it's at this point that Goodgame Empire comes into play. When you get to the 'Setup' section in the Core Temp installation process, you'll see a series of Additional Tasks. One of these, which is almost hidden in plain sight, has a box that will be ticked, offering you the choice to 'Build your own kingdom with Goodgame Empire. Start the game from the icon on your desktop'. It can be a bit of a 'blink and you'll miss it' situation, but as with anything you download from the internet, you should read all the terms and setup choices really carefully.
Goodgame Empire
Now, not everyone will want their desktop browser to be directed to the Goodgame Empire homepage. But as we explained, it's very easy to not notice the box you need to uncheck on the setup page. Your computer will probably flash up with a warning about Malware – this is your system recognizing that Goodgame Empire has tagged along for the ride with Core Temp. It's always a worry when something like this happens that it will come with a whole bunch of other 3rd party stuff as well, and this can open your system up to a whole load of viruses. Luckily, Goodgame Empire doesn't install any 3rd party bits and bobs on your system.
Next Steps
As we said, you should always take care and pay attention when installing software, as very often, software contains optional installs, like Goodgame Empire and Core Temp for instance. Make sure you read all the small print and what have you, and always opt for a custom installation – this way you have the option to deselect anything that is not familiar or wanted. And it goes without saying that you shouldn't install software that you don't trust! Downloading Core Temp is quite a standard thing to do though, so getting Goodgame Empire with Core Temp isn't the end of the world but can be annoying. You can follow the standard method of uninstalling the software via the Control Panel. Head over there and then go onto the 'Uninstall or change a program' option. Then look down the list and find Goodgame Empire. And there you have it! If you want to double check for any other bits and bobs that might have come along for the ride, you can scan your system with a Malwarebytes Anti-Malware to check it all out.
Final Thoughts
That should answer any questions you might have with regards to Goodgame Empire and Core Temp. If you like the sound of Goodgame Empire, and you've accidentally downloaded it along with Core Temp, then by all means, give it a go and have fun! However, more often than not, it's a bit of a pesky add-on that comes along with the very handy Core Temp. It's very easy to get rid of though, so it's nothing to worry about.