28.10.2020
When is the next CS:GO operation?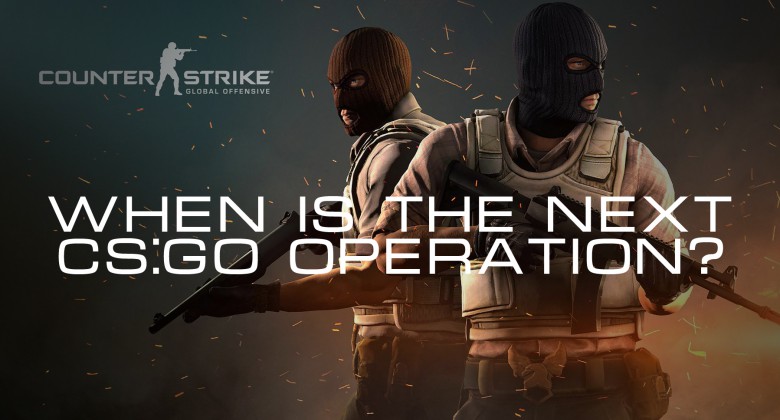 Counter Strike: Global Offensive (or CS:GO for short) needs little introduction. A multiplayer first-person shooter released back in 2012, it's quickly become one of the most popular and widely-played shooter. It's so popular that you can even go to a professional event where players battle it out for cash prizes as large as $1,000,000! But you don't have to be a pro to enjoy the game.

CS:GO - Operations
The popularity of the game comes down to a wide range of things, from gameplay to graphics, but one of the most popular elements of CS:GO are the operations. A CS:GO operation is a purchasable and downloadable piece of content in the game, which consists of exclusive official, and even community, created content. There are also exclusive weapon collections and cases to be found, as well as coins and stat tracking throughout the CS:GO operation. The developers of the game stagger the release of each operation, so the question on most people's lips at any given time is – when is the next CS:GO operation?
Timeline of CS:GO operations
Each CS:GO operation is scheduled to last between two to five months, usually with a one month break in between. However, operations often extend beyond their schedules. Before an operation expires, you will have access to all the campaigns and missions available – but once the CS:GO operation is concluded, the missions are removed from your inventory. To date there have been nine operations released. The table below will give you more information about each one of these, and will also help to consider when the next CS:GO operation is.
Name of Operation

Duration

Maps & Campaigns

Extras
Operation Payback
April 25, 2013 – August 31, 2013

Downtown
Favela
Library
Motel
Museum
Seaside
Thunder



-You can get coin upgrades from the time spent on each map

Operation Bravo

September 19, 2013 – February 5, 2014

Agency
Ali
Cache
Chinatown
Gwailor
Ruins
Siege
Seaside
Cobblestone
Overpass




-There were exclusive weapon cases and weapon collections in this operation

-The time it took for coins to upgrade was reduced

-The CS:GO operation maps were available for more modes




Operation Phoenix

February 20, 2014 – June 11, 2014

Cache
Motel
Seaside
Downtown
Thunder
Ali
Favela
Agency



-The weapon case is exclusive to pass owners
Operation Breakout
July 1, 2014 – October 2, 2014

Black Gold
Castle
Insertion
Mist
Overgrown
Rush




-Passes were no longer needed to play operation maps

-This operation was the first to include missions

-Coin upgrades were possible by completing these missions




Operation Vanguard

November 11, 2014 – March 31, 2015

Backalley
Bazaar
Façade
Marquis
Season
Workout
Train
Vanguard
Weapons Specialist
Maghreb
Eurasia Theater

-This CS:GO operation was the first to include operation campaigns (in italics)

-Missions were also received via these campaigns

-You could also access coin upgrades via campaign completions

-Also included as downloadable content were pay-per-campaign

Operation Bloodhound

May 26, 2015 – October 1, 2015

Agency
Log
Rails
Resort
Season
Zoo
Marksman
Revolution

-This operation introduced a new campaign structure, with story-driven campaigns

-When ranking up, there were exclusive drops made available

-There were new mission types introduced, including guardian

co-op challenges and assassination

-For the duration of this operation there were also daily mission drops



Operation Wildfire
February 17, 2016 – July 15, 2016

Coast
Cruise
Empire
Mikla
Royal
Santorini
Tulip
Gemini
Wildfire

-This operation had an exclusive co-op campaign

-There were also new co-op Strike missions available




Operation Hydra

May 23,2017 – November 13, 2017

Agency
Austria
Black Gold
Insertion
Lite
Shipped
Thrill
Hydra

-Three new gamemodes were introduced (War Games, Wingman, Weapons Expert)

-There were exclusive drops when accumulating guardian and events XP



Operation Shattered Web
November 18, 2019 – March 30, 2020

Lunacy
Jungle
Studio
Shattered Web

-Guardian Strike missions were introduced
So as you can see, it's nearly been a whole year since the last CS:GO operation was released! And before then, it had nearly been two years. So when is the next CS:GO operation? With Operation Shattered Web helping CS:GO hit its first million-player day, the anticipation is almost unbearable. Unfortunately, there have not been any leaks or solid indications of when the next CS:GO operation will be released. The game developers, Valve, seem to be keeping to the time limits they have implemented themselves, with weapon drops and cases being released at regular intervals, but this doesn't apply to CS:GO operations.
Final thoughts
So sadly, we can't answer the question on everyone's lips – when is the next CS:GO operation. But with this information, it should give you a good idea of timings, showing clearly the time between each previous operation. Some people have tried to mine the data of previous CS:GO operations to see if there are any placeholders for future maps and missions for the next CS:GO operation, but these have not been forthcoming. All we can do is wait patiently, and keep playing CS:GO!