09.07.2017
Become a Shinigami on Bleach Online
Bleach Online is a game based on the series called Bleach, just as in the series in this game appear different races like the Shinigami, Arrancar, and Quincy.

This game to be a game that does not need to download any data to your computer is a very fun and entertaining game that will appeal to every fan of the Bleach series. In Bleach Online we can be one of the three races. Shinigami, Quincy, Arrancar.

One of the things that we can highlight of this game is that each character is very well-designed and everything is done in 3D, but all the battlefields contained in this game are made in 2D which makes some contrast with each other.

But the fact that each battlefield is done in 2D makes you appreciate more the design of the characters that are in battle as well as highlights the effects of skills.

One of the things that I would change about this game is the music in the main city, which is not similar to the original music of the series, instead of the music of the battles if it is very well done and it is very pleasant to listen while it is Fighting against enemies.
Bleach Online is a game that can amuse many people especially the people who are fans of the Bleach anime series.

I really do not like many games that are developed to play directly in Google Chrome or Firefox, I like more games that are developed directly for platforms like PlayStation 4 or that are directly for computer and have a greater development both in history and in graphics.

But as I'm a fan of the Bleach anime series I decided to give Bleach Online a try, and I realized that even though it's a game with a lower budget compared to other Bleach games, Bleach Online is a game worth the Worth playing a couple of hours a day.

Besides all this other thing that I like Bleach Online is that in each battle we can not only fight with our character but we will have the help of the main characters of the series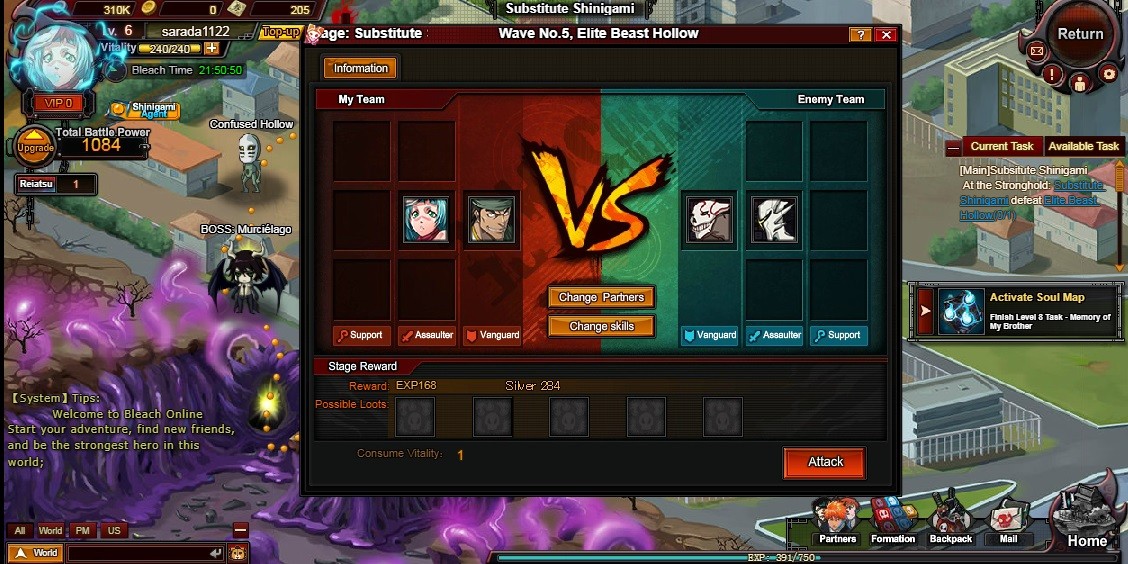 That we have the option to go recruiting little by little to each character of the series is something very pleasant and very funny. Also, being able to recruit other characters to join our team allows us to create a different strategy for each battle.

And we will not only be able to recruit characters from the series but those people who selected as the main character to the shinigami, they can use a special ability to transform their sword into another companion battle.

Bleach Online being a game that does not need many resources to play them on the computer makes many people can play it without having a computer of the latest generation.


But if you have the opportunity to play some other game of this same saga that is developed with a bigger budget or by some more famous company I would recommend playing that and not Bleach Online, but if they do not have that possibility then Bleach Online is a good option To take into account.