23.09.2022
One of the biggest battle royales out there?
Fortnite is one of the battle royales out there. It is more cartoony like apex legends but with the ability to be able to build as you fight. Each season can be jam packed with fun things to do and it can be a great game to play with your friends. There is only a single map, but it is constantly changing and evolving as the seasons progress. Each different spot has its own story or something to do, for example a fishing pole can be used to try to catch weapons from fish, or to be able to surf using a shark. There are a wide selection of weapons and rarity that are being added. It's never a dull moment even if you are not currently in a fight. And with a big map comes several different ways of travel. You have vehicles for water or land, as well as ways to be able to glide around up in the sky if that is more to your liking. Plenty of ways for you to charge in or play the deadly approach of picking your opponents off from a distance as they fight with each other. And that is only the surface.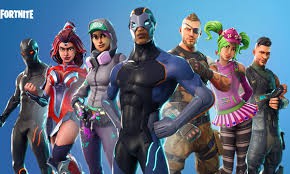 As other games, Fortnite adds skins and emotes. Wanna play as Goku, while your friends in the squad are Spider Man and John Cena? Well now you can. There are a lot of player skins for you to choose from and more to come. Combined with emotes and you can have a fun play. Want to go Super Saiyan? Or maybe you was doing a Darth Vader walk with the music to go with it? Well just like the player skins you are able to do any of that. And the fun don't stop there, as a matter of fact they have a lot you can customize. The type of glider you have for one example. Or your melee weapon. Even the guns themselves or the vehicles have skins that you can apply. See a squad fighting off in the distance? Well now you and your crew can fight in style. Play the way that you want to play; Dress the way you wanna dress. If you like colorful, both the map and your outfits can definitely fit the bill. But don't just take my word for it, go out there and see what you are missing out. This game definitely has some interesting combos.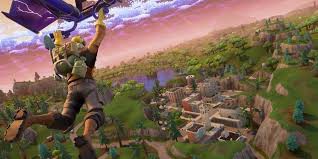 It is a little more cartoony and it gets people of all ages. Great game for any groups of friends that want to play together. Battle royale is just scratching the surface as you also have an island that you can customize. Wanna build a castle and then show it off? Or wanna invite your friends to do a little practice. Maybe you just want to spawn weapons in and see how each one works? Well all of those can be done with the personal island. With each island is a potential for different types of gamemodes too. Public games like Deathrun or Gun Game can be found too. Fortnite is not just limited to their battle royale. Like playing the battle royale but don't like building? Well no worries. Now they have a gamemode without it. Don't have any current friends on at the time and don't want to que with strangers? Solo is the perfect one for you. Go out. Explore. Win. As easy as it sounds, do you think that you have what it takes to be able to take home the crown and be able to wear it next game?