07.01.2018
World of Tanks is a hyper realistic tank game
Before I began playing this game, I was used to smaller, less detailed action games. The only other tank MMO that I played was Tanki Online, which dealt with fantasy weapons and tanks. So when I began the download for WoT, I saw that the game was larger than I expected, 3 GB. Because I was on a metered internet connection, I hoped that the download would be worth it. It was. When I started, it took me through tutorials and introduced me to game features. I learned how to research equipment, control my tank, and use battle tactics. When I began to play random battles, I rushed into battle. Obviously, it didn't go well. I also learned that the tank you used that was destroyed in battle remains unusable until the battle is over. After those first few battles, I played more cautiously, hiding and waiting to ambush instead of charging in. What fascinates me about this game is the extreme realism of this game compared to others I played before.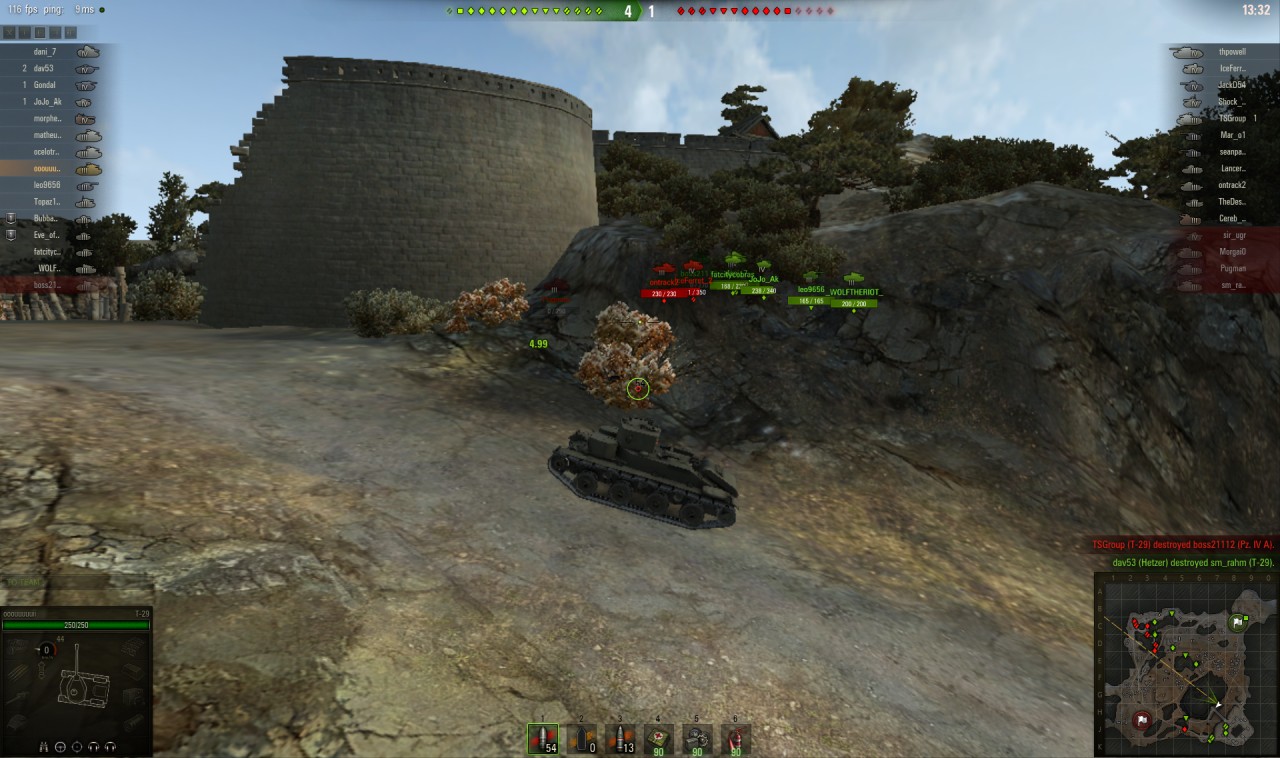 There is so much that WoT mirrors from real life. For one, different parts of the tank allow for higher or lower penetration, as some parts are armored more than others. Along with that, it is possible to injure, stun, and kill crew, but there are ways to get around that in the case that it happens. Individual parts of the tanks can also be damaged, such as the turret or the tracks. It is also required to buy ammo for your weapon, but you can only carry a limited amount into battle. Unlike other games that I played, it is possible to destroy trees, poles, and fences and it is impossible to get stuck in one. All enemies are hidden from the minimap and in the game until either you or another ally detects them. When the ally reporting the position is destroyed, the position of the enemy is hidden again. There is an accuracy concept in firing and the speed of the mouse doesn't determine the speed of turret rotation.
Along with this, WoT is quick and not very time demanding. The battles usually take fifteen minutes at most, and you have multiple tanks to choose from if you want to play more. The community is also helpful both in and out of battle. Unfortunately. matchmaking is fairly slow and sometimes it is not worth waiting multiple minutes to play a battle. It is also a very complex game which would not be recommended if you haven't played games similar to WoT before. Despite this, it is still satisfying to take down multiple tanks before falling yourself. The game is action packed, with just the right amount of strategy and precision. Overall, WoT is not only an incredibly realistic tank simulator, it is also a high energy MMO which I would recommend to those with experience from other games.

Also, the game itself is high resolution. The images are just low quality, for some reason.