25.07.2017
ARK Facts About The Local Wildlife
So finally a survival game with dinosaurs done right!
But what dinosaurs are actually in the game you ask?
Well... Here is a list of a few Dinosaurs in the game:
Yutyrannus
Kentrosaurus
Titanosaur
Megalosaurus
Troodon
Diplodocus
Iguanodon
Pachyrhinosaurus
Pegomastax
Therizinosaur
Therizinosaur
Baryonyx
Giganotosaurus
Oviraptor
Gallimimus
Microraptor
Compsognathus Curiosicarius
Pachycephalosaurus
Triceratops
Stegosaurus
Spinosaur
Rex
Raptor
Parasaur
Dilophosaur
Carnotaurus
Brontosaurus
Ankylosaurus
Flying Dinosaurs:
Tapejara
Pelagornis
Archaeopteryx
Ichthyornis
Terror Bird
Dimorphodon
Quetzalcoatlus
Pteranodon
Meganeura
Dodo
Giant Bat
Argentavis
They have also added a Griffin however this is not a real dinosaur as there is no scientific evidence to prove these creatures existed at any point in time.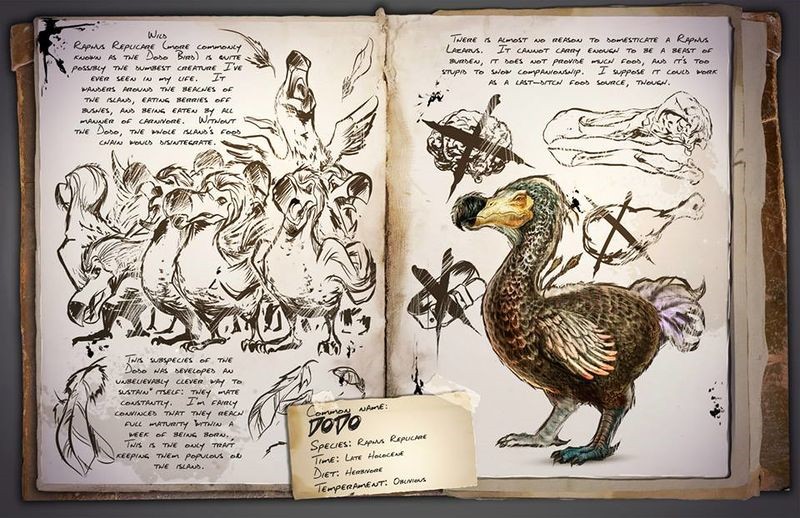 Dinosaurs are not the only Creatures in the game!
Some Water Creatures in this game are as followed:
Oncorhynchus (Sabertooth Salmon)
Leedsichthys
Diplocaulus
Cnidaria
Angler
Manta
Kairuku
Hesperornis
Beelzebufo (Frog)
Tusoteuthis
Electrophorus (Eel)
Mosasaurus
Liopleurodon
Dunkleosteus
Sarco (Crocodile)
Plesiosaur
Piranha
Megalodon
Ichthy
Coel (Fish)
No where is safe! Not the sea or the sky or Inland... What about the caves?
Nope Reptiles and other creatures lurk inside....
Reptiles such as:
Megalania
Kaprosuchus
Mosasaurus
Dimorphodon
Quetzalcoatlus
Titanoboa
Pteranodon
Carbonemys
EW BUGS:
Giant Bee
Leech
Ammonite
Arthropluera
Eurypterid
Tusoteuthis
Dungbeetle
Achatina (Snail)
Titanomyrma (Ant)
Trilobite
Araneomorphus (Spider)
Scorpion
Meganeura (Dragonfly)
Thats not the end of the list of animals... OH NO... What came after the reptiles,bugs and fish in evolution?
Warm Blooded Mammals...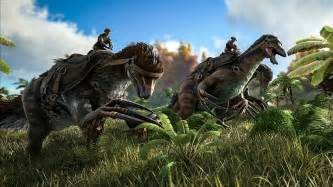 When will this list stop?
Well...
Three More To Go...
List of in game mammals:
Equus (Horse)
Ovis (Sheep)
Daeodon
Purlovia
Moschops
Basilosaurus
Chalicotherium
Thylacoleo
Hyaenodon
Woolly Rhino
Direbear
Procoptodon
Megaloceros
Lystrosaurus
Megatherium
Direwolf
Doedicurus Custosaxum
Dimetrodon
Mesopithecus (Ape)
Gigantopithecus (Bigfoot)
Castoroides (Beaver)
Paraceratherium
Sabertooth
Phiomia
Mammoth
The most recent update scorched earth released these creatures:
Lymantria (Desert Moth)
JugBug
Death Worm
Manticore
Jerboa
Mantis
Vulture
Thorny Dragon
Rock Elemental
Morellatops
Wyvern
My last list of this fact file is unreleased yet planned creatures:
Leedsichthys
Direbear
Ichthyornis
Iguanodon
Manta
Hesperornis
Gallimimus
There we have it people... a list of all the creatures in the game that you can tame or kill.
So you better be the hunter or get hunter.
Good Luck and thanks for reading