13.06.2017
Tavern decisions
When you play Unlimited Ninja you are gonna face the tavern which forces you to decide what's best for your team. As an expert in not paying more than 1 euro on the game I can help you decide what to do on the tavern.
So first of all you are gonna get to level 20 where you will be able to get: Kakuro, Choji, Tenten Yamanka Ino, Aburame Shino, Rock Lee, Asuma Sarutobi, Shikamaru Nara and finally Sakura Haruno. Out of these characters if you have VIP 1 or higher try to get Shikamaru and/or Rock Lee to help you get more silver from the beast event if possible to get a second or even third ninja get Sakura. In case you are VIP0 you can get Ino for her healing which will help you survive the battle and allowing your other characters to make a bit more damage. Don't worry about getting ninjas for the Bond just yet, since you will probably be rich by the time you get to lvl 105 where you can just get those bond ninjas to boost you up a little bit. If you are a really lucky VIP0 and you are able to get 200 Puple souls I strongly advise you to get Rock Lee or wait until level 50 to get Kimimaru or Haku.

On a side note if you are VIP0 focus on PVE since there will be always one VIP player who is stronger than you. Just wait till you have 40k+ coupons to get an event ninja from treasure hunt, the special RI ninjas from Ninja S Club and also the event ninjas on the new daily Ultimate Challenge.

I promise there is a chance for everyone now! ;)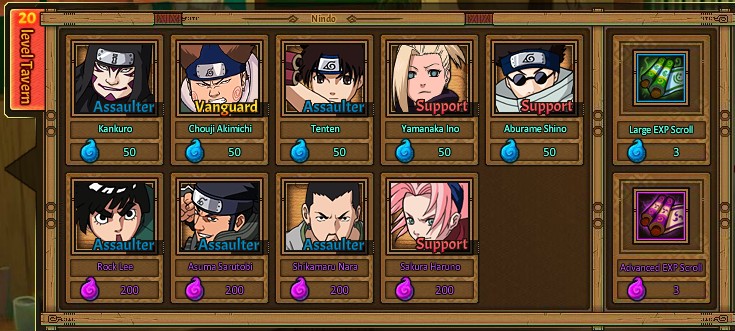 At level 50 there are some good choices tat you can look at, although if the ninja isnt purple it's not really worth getting it unless you are really desperate for some power. In that case you could take into consideration Temari and Shizune.
If you decide to only look at the purple ninjas, I suggest trying to get Kimimaru, Haku and Karin all of them are extremely good for their level. Karin will help you more on the PVP though so only get her if your PVE team is already good for this point in the game. I do reccomend you getting Haku first since she will boost you up on PVE events up to level 90+ so if you can, get Haku and if you are rich enough get Kimimaru.
Some people decide to get Maito Gai aswell but this is a bad decision due to you getting Hinata for free before level 50. She has pretty much the same stats and has higher block rate which means that she will actually help you dealing damage to beasts and rebels.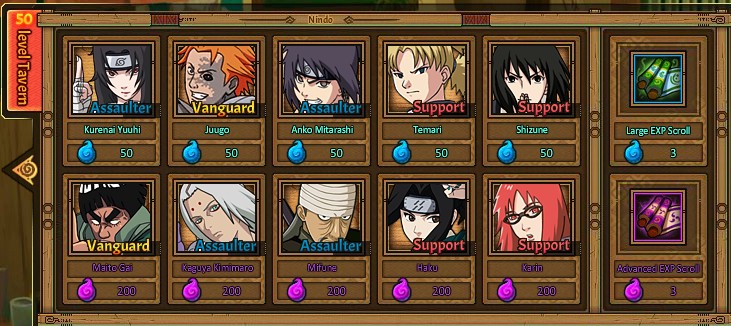 On level 70 you have a lot more to choose from and you should start by getting Kabuto which, yet again, will boost you up alongside Haku allowing you to use your high damage abilities more often and with more damage because the excess fury becomes extra damage on use.
One thing you got to focus on at lvl 70 tavern is the fact that both vanguards are good and atleast one of them should be obtained.
Since you are VIP0 you wont be getting much Gold souls and so you need to make this decision carefully, Kisame attacks the whole enemy team and boosts his damage but he will probably get blcoked a lot which will kill him rather quickly, on the other hand, we have Kakuzu who is an absolute beast for you from level 70 up to 100 so, to help you decide, you have to look at you jades:
-If you have really strong Counter Jades and you can put them on Kisame then get Kisame;
-If you dont have very good jades (which you prabably don't) then go for Kakuzu.
It's really up to you!
From level 70 you can also get Sasori and/or Deidara but you dont really need them ( but if you dont get them prepare to get your arena rank lowered by a lot).
Suigetsu is also a good choice and for PVP to deny the emeies who have Deidara you can get Yamato although you'll need a lot of good agility jades since supports tend to be faster than assaulters so dont really rely on getting Yamato.