20.12.2017
ARK: Survival Evolved: Part 1
I've been playing Ark: Survival Evolved for almost two years now, and I'm still not 100 per cent sure if it's a good game. Strip away the appealing dinosaur-themed veneer, and developer Studio Wildcard's long-in-early-access survival adventure starts to look surprisingly routine. Its core systems are overly familiar, uninspired even, and more than a little wobbly; it's devoid of depth or nuance, and it's a survival game where the only resource that's required most readily is your time. Yet, for all its foibles, I've poured hundreds of happy hours into Ark, and I'll doubtless play even more.

A huge part of Ark's appeal, I think, is pure wish fulfilment. Like many, I was obsessed with dinosaurs back in my early years: I'd spend hours with my head in books of bones, memorising complicated names, and gawking at the pictures of sharp-teethed behemoths and big friendly giants. Eventually, that paleontological fascination subsided, but somewhere in my heart, my love for those beautiful beasts of a bygone era lingered on. And Ark taps right into a thick vein of nostalgia, letting you live out those childhood fantasies in a world where dinosaurs still roam.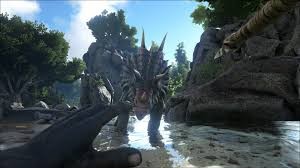 It's a game of pure adventure, of unspoilt lands and long-dead civilisations, of fearless explorers and ancient mysteries, of mighty beasts, impenetrable jungles, sun-dappled forests, steaming volcanoes, crumbling ruins, terrifying oceans, frozen wastelands, and endless sand dunes; it's a game where triceratops and stegosauruses graze lazily in verdant pastures, where brontosauruses tower majestically beneath brilliant blue skies, where drooling, screeching carnivores can come crashing through the trees at any moment. Ark isn't just a prehistoric showcase though; its real strength is that it gives you the irresistible opportunity to live among its beasts, forging an existence through hard, but satisfying graft: gathering food, collecting resources, building a home, domesticating animals, and gradually asserting your dominance over nature and - in the brutal, relentless battles of PvP - other tribes. Ark's narrative through-line - in which you wake on a secluded beach, scrape together a soggy thatch hut, then slowly, doggedly establish a presence through weeks of toil until you're finally atop some fearsome beast, surveying your vast domain - can make for an incredible journey.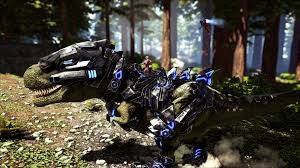 Take a look at Ark's feature list and it really does seem like no stone has been left unturned: there are more than 100 water, land, and air creatures - from the humble dodo to the mighty giganotosaurus - nearly all tameable, and nearly all have distinct utilities for gathering and fighting. It's a sandbox game that's positively bursting with opportunities: you can explore, build, farm, craft, fish, trade, live high among the forest branches or deep beneath the waves; you can kill bosses, raise baby dinosaurs, or wage wars to assert your domination - and all while playing with other humans on massively populated servers across the world. Ark's breadth is spectacular, and it's easy to lose hours to its tight loops of resource gathering and expansion. And once you've got to grips with the basics, your options grow even further: you can play peacefully on PvE servers, aggressively on PvP server, or offline as a single-player game.