07.02.2018
ROBLOX(In my opinion)
ROBLOX is amazing! Teaching children creativity, and having them play and create worlds is genius! The only problem is that it is creating a lot of bullying and some children are bullying each other. Things like calling each other noobs, online daters, or ugly is very common on this game. It doesn't seem like the overall report system is very useful either as usually the cases are looked into as much as they should. The prices are a bit much as well. For a hat it could cost anywhere from 50-100000 Robux! When they do this you could also notice that the prices to buy these Robux are also outrageous! Don't get me wrong, this game is amazing, but really... I think there is a lot of improving to be done! In this article I will also be talking about two of the main ROBLOX topics, and explaining them.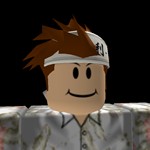 When you first enter ROBLOX, you will notice how most, if not all of the characters on there look different. This I think is amazing, this game allows everyone to be themselves. You will notice in the above picture, that my character looks like a ninja in a Hawaiian shirt, this is the beauty of this game, you can be ANYTHING. Creativity is key, and you can end up being a Robot, a Penguin, a Snowman, a Knight, a Princess, and so much more! There are basically endless possibilities, and with very update it gets better. You might notice that the way you can customize your character is with Robux on the catalog. Robux are pretty pricey like I said above, but if you manage to get your hands on them, you can become whatever you want to be. If it wasn't for the money, I would say this would be the perfect children's game.

In ROBLOX, you can also make something called a place. A place is basically a game that you or one of your friends have made. If you look at the picture above, you will see a place that I made, I am not the best builder, but this is a café. There are unlimited possibilities when it comes to making a place though! You can make a space station, a town, a kingdom, mini games, and so much more! This enables you to be very creative, and I find it amazing that a free game can allow you to do so much! Overall, it might be a little difficult to create a place/game, but anyone can do it as long as they put in the time and take a valiant effort at it. Once you create your place you might even get your game on the front games page, and have over a million people play it per day! I would definitely recommend ROBLOX, it is always worth a try. Have a fantastic day!