21.12.2017
Vonlindner - Reviews - War Thunder
When War Thunder was officially released at the very end of 2016 many fans were left wondering what that meant for the five-year-old MMO. Were Gaijin Entertainment done implementing and adding features? Of course they weren't. In fact, they're planning to roll out almost twice as much content in 2017 as they did in 2016. Of course, a lot of that content is still shrouded in secrecy, so we thought we'd quiz CEO of Gaijin Entertainment, Anton Yudintsev on the matter.

Judging by what's on the horizon and how the game is looking right now, 2017 could be War Thunder's best year yet. With Knights of the Sea planned to make the transition from pre-beta to open beta, World War mode due out, the promise of new nations and even talk of destroyers coming to naval battles before 2018 - it's not hard to see why. So, here's everything that's coming to War Thunder in 2017.

War Thunder's third and final form of vehicular combat, naval battles, has been in closed beta since players first got hands-on with it as Gamescom 2016. Since then, purchasers of special naval packs have been able to try out new vehicles and game modes for Knights of the Sea every weekend in limited sessions.

"In each of our weekend events we try out a new type of gameplay," explains Yudintsev. "New types of ships and gunboats, different types of missions and locations. The main thing of course is to gain feedback from players on the core mechanics. We're making reasonably good progress. Naval forces are not yet in open beta, so we still don't know the demand and how popular it will actually be. We only have pre-orders for naval packs to go by, and commercially speaking, they did reasonably well."

There are to be a few more closed beta tests in order to ensure that everything is perfect ahead of the leap from closed beta to open beta, which will see thousands of players rushing to try out the new battle type and tech tree.

In its current form, naval battles are not too dissimilar from Ground Forces battles inasmuch as firepower reigns supreme: if you can deal out the most damage and keep your own boat relatively intact then you'll end up in the top half of the leaderboard. Movement and speed are nowhere near as important as they are in air battles, however there is some scope for clever maneuvering when it comes to dodging incoming torpedoes. It's also markedly different from both in terms of how long it takes to destroy an enemy vehicle - often it takes minutes of continuous fire - which can make racking up multiple kills in a single match difficult. During the closed beta Gaijin have also introduced closed beta testers to three new maps - English Shore, Scandinavia and African Gulf - nearly 20 boats, night missions and two unique game modes.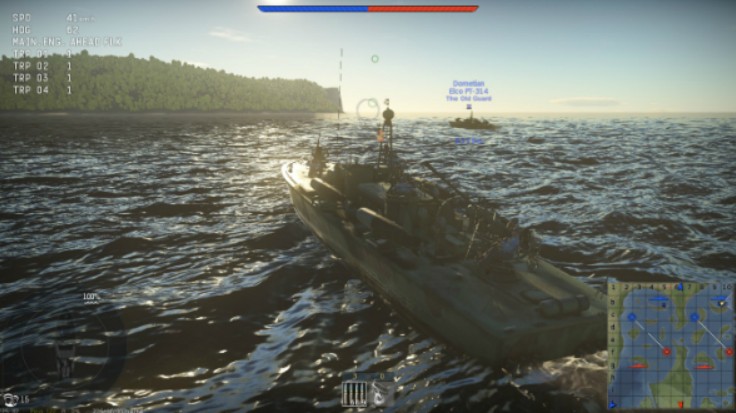 Ground Forces vehicles are still yet to meet their seafaring counterparts in combat, while the closed beta features plenty of clashes between pilots and captains. "Most naval vehicles were never used against ground vehicles," says Yudintsev, "sometimes they were, so at the moment we're not sure if there will be regular battles against tanks and other ground vehicles. Most likely it will take place as a special event." Yudintsev argues that getting the two vehicle types to meet up in a fair and realistic setting is out of the question for standard multiplayer matches because a significant part of the fleet is not good enough to fight with tanks. "At the same time both tanks and ships can just get away from each other and hide. Of course there were some well-armoured and well-armed ships that could fight, but not all of them and especially not torpedo boats - torpedoes are not going to be taking out any ground vehicles."

So, when can we expect the open beta to arrive? "Currently, we plan to launch open beta at some point in April, or maybe May. We have at least four more tests to run, because usually we try the new vehicle and mission type, adjust it and then re-run it. So if we have four tests, that equates to about eight weeks. Most likely it will be the end of April, but that's not a promise. Second quarter of this year is a safe guess."

One of the biggest talking points surrounding the impending arrival of naval battles is whether there will be any large vessels in the tech trees. So far, all the ships that have been announced have been relatively small - in fact, most of them are technically boats. The large number of torpedo boats, gunboats and submarine chasers that have been released so far to closed beta testers suggests that there will be little to no scope for the large vessels like destroyers and cruisers.

"There's a big demand for [large naval ships] because they're the most popular, the most sexy naval vessels," says Yudintsev, "unfortunately, if you want to stay both realistic - and War Thunder is very realistic in terms of its damage model and physics - and interesting, it's very challenging to make big vehicles. Big vehicles can be reasonably fast but they're huge, so if you scale that to the distance of fire they're very slow, so the battles would take hours, as it was in World War Two. The shortest naval battle was 29 minutes and consisted of one shot."

However, Yudintsev is keen not to rule them out altogether. "It's possible that there will be bigger ships on the way. We just recently made some tests with some-400 tonne ships and our audience were really excited about that. They're not the biggest ones that will be in the game, most likely we will have everything up to destroyers. It is possible that there will be even bigger vehicles than destroyers, but only as targets and in-game events, not in the research tree."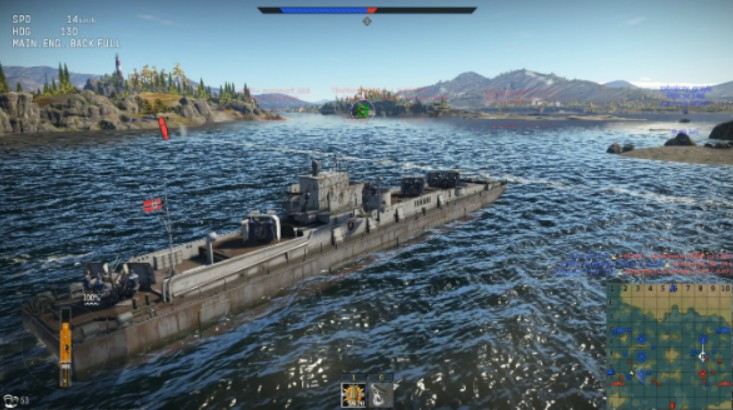 So, don't expect to be ruling the waves with a Yamato in War Thunder, but destroyers are still a possibility, especially with the recent reveal that a British tribal-class destroyer is making its way into the closed beta. It's not on par with a modern destroyer, cruiser or battleship in terms of size, but it's a big step step up from a torpedo boat.

Two of War Thunder's biggest milestones in 2016 were the additions of both British and Japanese tanks, and having new tech trees to grind through, figure out and specialise in is an essential aspect of War Thunder's lasting appeal. But with the five most notable armies of World War Two now in the game, there was concern that Gaijin might be wrapping up the game's nations while they focus on fleshing out and iterating naval battles. Yudintsev assures me that's not the case: "Yes, we're going to add new nations to the game this year."

Exactly which nations, how many, and in how complete a form? Italy has been confirmed as the next new nation coming to War Thunder, although it's by no means the last. As Gaijin have done with all previous tech tree releases, Italy will enter the fray with only aircraft initially, with ground vehicles and boats coming much later. The Regia Aeronautica will be released to testers as part of the forthcoming 1.69 War Thunder update, the next major update since the game's full release last year.

The ambitious mode will feature a global map accessible through the player's hangar that shows all ongoing military operations. All operations are divided by theatres of war, and each theatre of war can have a number of operations in progress at any given time.

Beyond that are the operations themselves. These will be for commanders and are being billed as an RTS experience for the strategy-minded players - they can move armies across the map in an effort to take certain objectives, and in vying for an objective a battle breaks out involving whichever resources have been channeled towards it.

This is where War Thunder's traditional gameplay comes into effect - battles will take place in one of several previously tested game modes that reflect the objective and scenario that sparked the conflict. The outcome will then determine what resources are left for commanders to use in their next operation and who controls what objectives and map points.