21.05.2019
Why DOTA 2 Is still popular?
Dota 2, also known as Defense of the Ancients, is a MOBA game and also a real time strategy game. The game was initially developed by IceFrog in year 2009 and released to the public through beta keys in 2011. Icefrog has tweaked this game from Dota, which players can enjoy a better gaming experience based on the better game graphics improvement compared to Dota.
Basically Valve Corporation recruited IceFrog and this game is now developed by Valve Corporation.
There are some reasons why is this game still popular among the community of gamers after about 8 years of release.
Firstly, the largest e-sports event The International ( TI ), which is the biggest Dota 2 competition, running from the year 2011 until now, and attracts more than 10 millions of viewers from the world. The prize pool money is also huge and increasing every year. For last year 2018, Valve had paid out more than $25 millions of prize pool money to the world best 18 teams participated. The winner had brought home more than $10 millions and about $ 60,000 was given to the 17th and 18th places.

Secondly, the developers keeping the game actively. For every few month, a new patch will be brought in to the game, such as heroes tweaks,map tweaks,items tweaks and new heroes. Players will needs to learn and adapt what is going on in new patches too. Of course, players will get bored if they still playing for same patch or same version for a long time.
There are also some cosmetic skins which player can equip them to make their heroes looks nicer and more beautiful. Not also heroes, players can tweak their map interface, weather effects, courier, HUD skin, music, cursor and ingame announcer. Players can find them and purchase them from Steam Community market or directly purchase from the Dota2 ingame store. Developers will keep release new cosmetic skins through ingame store such as a hero bundle pack and treasure packs, so players will have more choice of selections. Players can exchange their cosmetic skins through Steam trading with other players without limitation.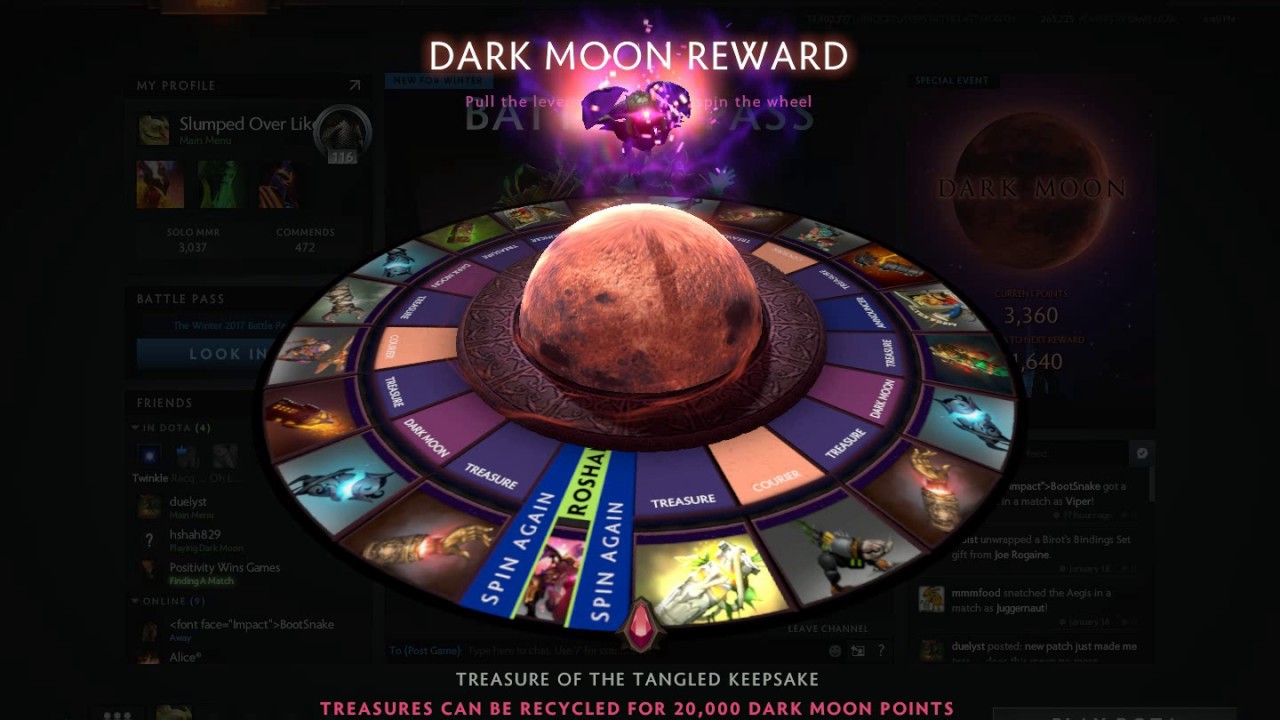 Valve also introduce some new ingame events. These events were to coordinate with real life events such as Chinese New Year, Christmas, Halloween and TI event. The very first held event was Diretide event ( Halloween) in 2012. This event was discontinued after 2 years with no specific reason. Prizes and cosmetics skins were given out to players who took part in those events. Some cosmetic skins such as Baby Roshan ( ingame courier) , which worth thousands of dollars, were given out to some random lucky players.
Next is the matchmaking ranking system, a ranking system to distribute the skill bracket of players. Players can play with the others similar skill bracket players through this system. Players can know how are their gameplay skills at which level. By playing on this system, players can improve their gameplay skills, each players will be credited by points when they win a match and the defeated team,points will be deducted .
Those are the reviews from me, and hope you will find more fun in this game.
zhenyi.