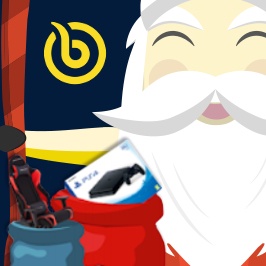 15.11.2018
Christmas Event in November?
Hi Bananamaniacs!
We have some awesome news for you! This year you will be able to take part in the Christmas Event even sooner. Why? Because we want you all to have equal chances to win some of the best gaming prizes!
The winner will be able to choose between:
- DX Racer gaming chair (we will contact the winner to pick up the proper size)
- Playstation 4 console
Obviously, we have more gifts for you. You will be also able to get some Amazon vouchers, Steam Wallets or Banana codes.
This year you will be gathering Xmas points, not Bananas. There will also be a lot more rewarding activities available. The detailed instructions will be available on the official event's website. Just remain active during the event and points will automatically be added to your account.
New ingame registration? Account level up? Banana creator's purchase? Completing giveway? Those are just the few examples of what you can do on Bananatic to increase your chances of winning.
Get ready for this year's Advent Calendar! From the beginning of December you will be able to gather a lot of points from some extra paid activities! We will keep you informed on our social media accounts and via notifications so that you don't miss anything.
Be aware that we will be verifying all accounts in order to ensure a fair play behaviour. Last year you were all amazing and this year it would be great to play along again.
Prizes await you!
Hold on, one more thing! We do take into consideration that some of you have been our users for quite some time and have already gathered Bananas and registered to lots of games, which will make it harder for you to get Xmas points. In that case, please contact us via the support form. We will verify each case individually.
Please also remember that all Bananas and activities that you have completed in the past will not give you extra points. Let's have a start fresh :P The Event starts from November, 15th and lasts till the end of December.
Yours always,
Banana Team and SantaBanana