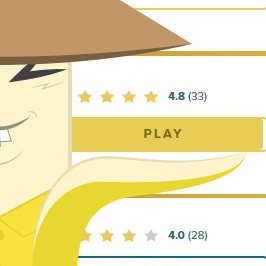 22.05.2018
"Play again" has arrived!
Hi there,
We have some great news for you! With a view to most demanding players we have prepared a special feature - "Play again".
If you finish all quests in a specific game or time needed to complete the tasks has already expired, a "Play again" button will appear on games' list. Be aware that the registration renewal will activate after 30 days from mentioned actions.
Easy enough?
Just click on the button to start a completely new registration which will unlock a new set of tasks.
Remember! You cannot repeat the login once used in the game. In case of duplicating screenshots from a previous registration, your account will be banned permanently.
The badge will be awarded only once ;)
"Play again" option will be available only in specific games.
Do not forget to activate notifications! We will keep you updated whenever your game reaches "play again" status.
Happy banana hunting,
Bananatic Team